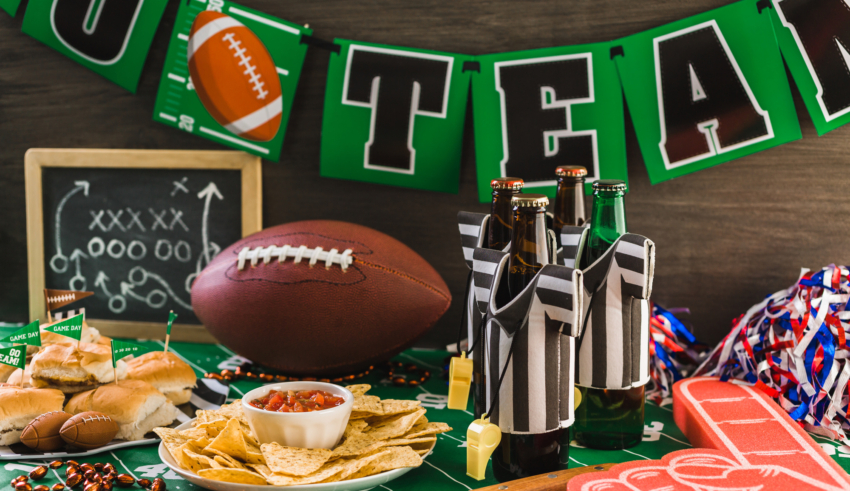 Game day football party table with beer, chips and salsa.
Do you live for football season?
If so, join the club! After all, there's nothing better than watching a great game of football with family and friends. It's one of the most exciting sports on the planet, which is why it remains so incredibly popular with billions of fans.
Now that the playoffs are upon us and the Super Bowl is right around the corner, this is the perfect time to throw a big football party. Fortunately, this article can help you plan every detail of how to create the ultimate event for every football fan in your life. Keep reading to learn more about choosing football party food and football party supplies.
1. Choose the Right Space
Let's start by discussing the importance of choosing the right space for hosting a killer football game party or fantasy football draft party. Keep in mind that a great party means you'll need a ton of guests. Thus you'll need as much space as possible.
This can be a problem when hosting a party at home. After all, you'll probably have limited space, especially if you plan to invite more than 20 or 30 guests.
The key is to start by thinking about how to deal with furniture. You might want to consider removing everything but tables, chairs, and seating. Or at least place most of your furniture in rooms where nothing will be in the way.
It's also a smart idea to consider renting a space for your party. For example, you could rent an event space at your favorite restaurant or sports bar. This is a great way to ensure that you have plenty of room for everyone you plan to invite.
2. Send Out Invitations Early
Next, it's important to send out the invitations for your part as early in the planning process as possible. This will give people plenty of time to decide what they are doing on game day.
It also helps you decide the amount of food you'll need to buy and make sure you have plenty of space for everyone.
The easiest and most efficient way to handle football party invites is to simply send emails. This way you can take care of the entire process with a single bulk email blast. Plus, it enables everyone to reply immediately from wherever they are when they receive the invite.
You could also send out old-fashioned snail mail invites, just be sure to encourage everyone to respond as soon as possible so that you can plan accordingly.
3. Decorate for Both Teams
When it comes to decorating for game day or a fantasy football draft party, it's crucial to make sure that both sides feel welcome. This means you'll need to decorate with the colors of both teams, regardless of your favorite.
Keep in mind that you don't have to go crazy with the decorations, and yet a nice splash of color and the right football-themed party decorations can make a big difference in creating a fun and festive atmosphere.
One of the best ways to decorate is by investing in paper tablecloths that feature team colors and helmets. It's also fun to place team throw blankets on your sofas so that everyone can easily choose where they want to sit.
4. Snack Options
Now let's talk about snacks. After all, everyone loves noshing on snacks while watching the big game.
The key is to make sure you have plenty of snacks to last the entire day. This includes pre-game, game time, and post-game when everyone is hanging out. One of the biggest game-day planning mistakes you can make is running out of snacks.
The best strategy is to buy more than you think you might need.
When it comes to specifics, you can never go wrong with chips. This includes potato chips with a variety of dips, Fritos, tortilla chips with salsa and guac, and anything else you spot on the chip aisle in the supermarket.
Be as creative as you want, just make sure to include plenty of salty snacks that will appeal to just about everyone on the guest list.
5. Food Options
A lot of people host football parties as an excuse to eat and drink. And when we say eat, we don't mean salad. This is the time to break out the grill and really cut loose.
There's nothing better than burgers, hot dogs, and ribs when preparing football party food. In fact, it should be illegal to not have those options for the football fans in your life.
Be prepared for your guests to eat a lot. Don't skimp on food. That's the fastest way to turn a great party into a flop.
Focus on burgers, hot dogs, ribs, pizza, and anything else that requires very little prep. The key is to keep the food selection fun and delicious. Just make sure to inquire about any dietary restrictions and provide special food as necessary so that everyone can have a great time.
6. Drink Options
Next up is drink options. This is obviously one of the most important football party supplies, therefore you'll better provide a wide variety of beverages.
Depending on the ages of your guests, it's important to include everything from bottled water to several beer choices and sodas. The best strategy for football party drinks is to buy everything in cans and bottles and then toss everything on ice in ice chests. This helps keep your drink cold while making it easy for guests to reach in and grab what they want.
And as with snacks, you never want to run out of cold beverages. That's why it's important to buy more than you need for game day.
Keep in mind that it's always a great idea to have kegs for your party so that everyone can just refill their plastic cup rather than piling cans and bottles in the recycle bin.
7. Pre-Game Activities
Sports fans love to arrive early for games. That's why it's always a good idea to have a few pre-game activities planned to keep everyone entertained. This could include everything from cornholing to making friendly wages, just to keep things interesting.
Here's a cool resource where you can learn how to bet on sports.
8. Upgrade Your TV
How big is your TV? This is an important question to consider before hosting a football watch party.
These days it's easy to find a great TV without spending a fortune. That's why there's no excuse for having anything less than a 65-inch screen on game day. Think of it as a great investment that will make a positive impression on your guests.
The key is to do some research to find out what TV is best for watching sports and then buy the biggest one you can afford.
9. Make Sure You Have Enough Seating
When you invite a lot of people over to the game, they're going to need somewhere to sit. The best strategy is to buy or rent folding chairs and tables and arrange them so that everyone has a good view of the TV.
10. Halftime Activities
It's always a good idea to have some games prepared for halftime. This will help keep everyone engaged while people go to the restroom and refill their drinks before the second half begins.
11. Post-Game Activities
Once the game is over, your crew might not be ready to head home. This is the perfect time to get everything involved in games that will keep the fun going rather than everyone leaving at once.
12. Cleanup Tips
Be sure to place trash cans throughout your home. This will make it easy for guests to pitch their garage in throughout the day rather than having to deal with a major cleanup after the game. Don't be afraid to remind people to look for a trash can when they're done eating instead of leaving trash on the floor.
A Guide to Creating the Ultimate Football Party
It's no secret that people love a great party, this is especially true when it comes to watching a popular sporting event together. Fortunately, this guide to throwing the ultimate football party will help you combine the best of both worlds.
This blog is the result of a deep desire to provide readers with a tremendous resource for information that can transform their lives. Please feel free to continue exploring the amazing library of content that's filled with useful lifestyle-related tips and advice for the entire family.