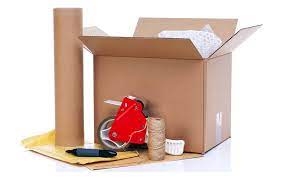 When it comes to packaging and shipping, prioritising the safety of items as well as improving packaging efficiency are critical for ensuring a premium packaging experience. The right packaging supplies, such as packing tape, bubble wrap and corrugated sheets, can significantly enhance the protection of goods during transit, ensuring they reach their destination in the condition that customers and receivers expect. If you're looking for ways to maximise the protection of goods during transit, this article will detail five packaging supplies that will instantly boost item protection during transit.
Bubble Wrap
Bubble wrap is a versatile packaging material that provides excellent protection for fragile items. The air-filled bubbles cushion items, absorbing shocks and impacts during transit. It's also lightweight, easy to use and can be cut to fit items of any size or shape. Bubble wrap is particularly useful for protecting electronics, glassware and other delicate items.
Packing Peanuts
Packing peanuts, also known as loose fill, are used to fill empty spaces in boxes, preventing items from moving around during shipping. Packing peanuts are lightweight and cost-effective, making them a popular choice for many businesses. They can be used to protect a wide range of items, from small electronics to large furniture pieces. Some packing peanuts are even made from biodegradable materials, offering an eco-friendly alternative to traditional options.
Packing Tape
One of the most fundamental packaging supplies is packing tape. This packaging supply is generally used to secure boxes and ensure they remain closed during transit. High-quality packaging tape offers strong adhesion and durability, ensuring your packages stay intact. There are also different types of packing tape available, including acrylic, high-visibility and hot melt, each offering their own unique benefits for different packaging situations. For instance, hot melt tape offers superior holding power, making it ideal for heavy packages. Some tapes also come with reinforced strands for added strength, while others are resistant to UV rays and ageing, making them suitable for long-term storage.
Corrugated Cardboard Sheets
Corrugated cardboard sheets are another essential packaging supply. They add an extra layer of protection to boxes, enhancing their rigidity and resistance to impact. They can also be used as dividers within boxes, preventing items from rubbing against each other and causing damage. Corrugated cardboard sheets are made from three layers of paper, including an inner layer of ruffled paper that provides cushioning. This structure gives the sheets their strength and durability, making them ideal for protecting heavy or fragile items.
Stretch Wrap
Stretch wrap, also known as pallet wrap, is used to secure items together, making them easier to handle and transport. It's particularly useful for securing items on a pallet. The wrap is stretchable, allowing it to tightly secure items, and it clings to itself, ensuring it stays in place during transit. It's a versatile packaging supply that can be used for a wide range of applications, from bundling small items together to wrapping large pallets. Stretch wrap is also surprisingly strong when applied properly and is highly resistant to impacts and punctures that could damage items during transit.