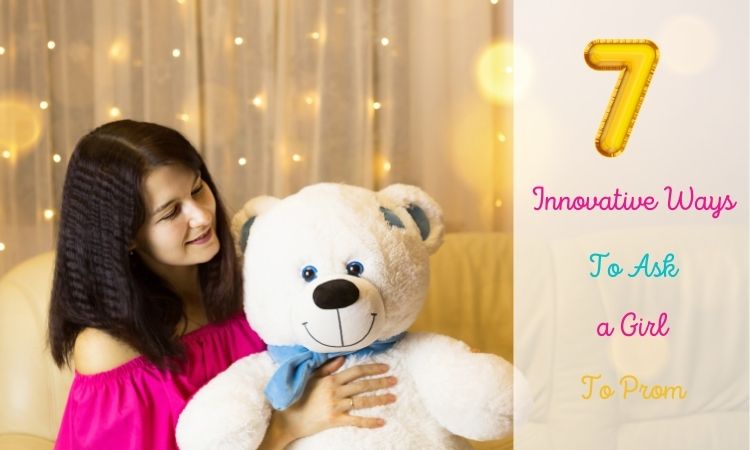 Asking your crush to go on a prom with you is not a cakewalk and can be a little scary. In order to get the coveted 'yes' as an answer, you will have to put in some extra effort from your end. You may have to do some research on what she likes and dislikes to impress her. You also have to be creative to think out of the box for innovative ideas. Even though it is a lot, it will all be worth it when you walk into the prom with your crush. Hiding your proposal message in a prom teddy bear and gifting it to her is a great way. There are more such creative ways that we shall discuss here.
Continue reading to know how to ask a girl or crush to be your prom date.
Send her Flowers
Nobody can resist the magic of flowers, especially girls! Asking a girl for a prom with a bouquet of flowers is a classic and still the most romantic way. Know the favourite flowers of your crush to impress her. For example, if she loves orchids, ask her out with a bouquet of orchid flowers in your hand. If you have a garden at home, then you can also pick different flowers from your garden and make a bouquet yourself. She will definitely say yes!
Be Creative
Show your creative side to ask her out for a prom. You can surprise her by decorating her locker and keeping a note asking for the prom date. You can channel her favourite movie or TV show and use fun puns, jokes, or dialogues for a Promposal. Moreover, if your crush is a foodie, you can ask her for the prom with her favourite food. Send her pizza with a note asking her out for a prom. If she is a book-lover, you can sneak a Promposal note in her favourite book and give it to her.
Give her Stuffed Animal
Every girl loves stuffed animals, and you can get one to ask your girl to go to prom with you. A prom teddy bear will do the trick and get you what you want to hear. Teddy bears come in a variety of shapes and sizes. You can even buy a customized big teddy bear online. Tie a ribbon around the neck of a 53 inch teddy bear. Then, attach a tag to the ribbon that asks her to go on a prom with you. It is the cutest way to impress a girl and get appreciated by her. How can a girl say no to a cute hugging teddy bear?
Create a Playlist
If you want to win the heart of your girl, then you wouldn't find a better way than creating a playlist of her favorite songs. You can easily create a playlist with some of her favourite romantic songs and then send it to her. You won't have to say a thing as the songs will convey your emotions. You can send the playlist via email with the subject saying, "Will you go to Prom with me?" There are several prom songs that you can add to the playlist.
Wear a Custom t-shirt
If there are still some days left for the prom, then you can use this trick. Ask your girl in front of the whole crowd by wearing a customized t-shirt printed with a "will you go to Prom with me?" message. It is the most daring yet adorable way to ask out any girl. She will love it and wouldn't say no! However, to make this trick work, you need time to get a customized t-shirt. So, if prom is on its way, get a customized t-shirt right away. But if you don't have enough time, you can simply write the Promposal on your simple white t-shirt with a pen
Ask with Dessert
Does she have a sweet tooth? If yes, make your Proposal sweet with a sweet treat. Bake some cookies yourself and put them onto a plate. Hide a note underneath cookies saying, "It will be sweet if you go to prom with me". Make sure to put tissue paper between the cookies so that the note doesn't get greasy. You can also ask for the prom with personalized fortune cookies. Moreover, you can also send her a box of yummy doughnuts spelling out the word prom with a question mark.
Put a Puzzle
You can create the ultimate puzzle for her and ask her to put it together. Make a custom promposal puzzle, or you can print your note onto a jigsaw puzzle. You can also make a word search puzzle or crossword to ask for the prom. She will be thrilled, especially if she loves puzzles. The answer that you will get in the end will be a big YES!
Conclusion
These are some innovative ways to ask a girl to go to a prom with you. Hopefully, you will get the Yes as the answer, and you will visit the prom with your dream date. Besides, don't forget to thank your prom date for saying yes. You can thank her with a gift like a customized teddy bear with heart to express your true feelings.