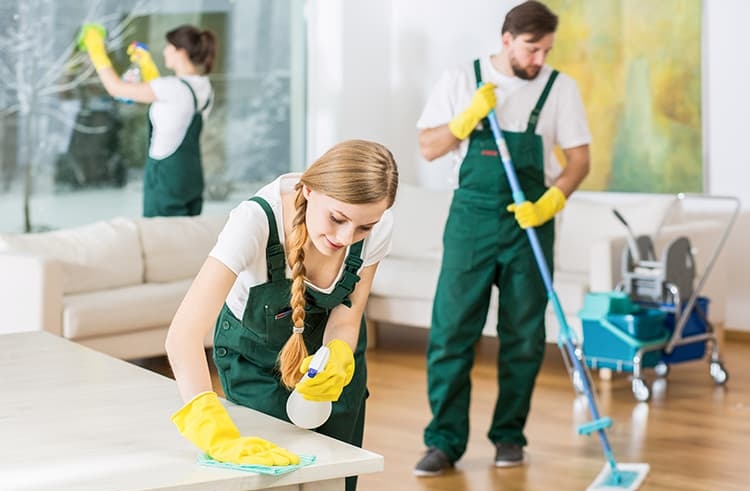 We try our best to maintain a clean environment. After all, the cleanliness of our surroundings is imperative for a happy and healthy life. Many diseases can happen if we stay in dirty, germ-infested surroundings. Therefore maintaining a clean house becomes essential. However, some spots we forget to clean during our regular cleaning days accumulate dust and germs. These missed spots can be why end of lease cleaning in Sydney or elsewhere is costlier and time-consuming since there is heavy dust accumulation here.
This article sheds light on 9 missed spots in a home that invite germs into your dwelling and spread diseases. Please keep reading to know which are these places, so next time they do not miss out your sharp eyes-
Under the Appliances
We require numerous appliances at home to ease our daily life. Cleaning the inside of this home equipment is on our to-do list, but we need to remember that we must also swipe under it. There can be food crumbs, spilled water or juices, and dust that collect under these appliances and stay there since we miss these spots in everyday cleaning.
Light Switches
Another area that we frequently touch yet forget to clean is the switchboard. These surfaces host many germs and can spread from one person to another. Therefore it's essential to clean and sanitise the switchboards regularly and ensure there isn't an infestation. You can use disinfecting wipes, or a microfiber cloth dipped in rubbing alcohol to clean and sanitise the switch plate.
Door Handles
Can you recollect how many times a day you touch the door handles in your home? It's almost impossible to give an exact figure because we do it throughout the day. However, we miss cleaning the door handles during the cleaning procedure. Door handles are also carriers of germs and require daily sanitation. One can use a clean microfibre cloth to wipe all the door handles and spray a sanitiser to ensure the surface is free from disease-carrying germs.
Window Screens
Sometimes sitting by an open window and gazing down the road is the only happiness pill you need. However, if you ignore cleaning the window screen, you may not be able to enjoy the fresh air. Instead, all you will feel is dust, dirt and unwanted allergens in the air. Dipping an old toothbrush in warm soapy water and scrubbing the cracks can help eliminate the dirt from the windows. Similarly, using a paper towel to clean the tracks is an efficient way to clean the window screens.
Air Vents
Air vents have a discreet function of collecting dust and eliminating it from homes. However, most of the dust is stuck on the grates of the air vent. It's easy to forget to clean these because they face the ceiling, and one can't see them easily. Regularly wiping down the grates of the air vent will ensure that your home is not only clean but also that you are breathing fresh air.
Ceiling Fans
Did you ever feel that your home still feels dusty even after so many rounds of deep cleaning? If yes, have a look towards your ceiling fans. The fan blades collect a lot of dust and spread it throughout the house when rotating. Maintaining a weekly ritual of dusting fan blades will help you enjoy dust-free air. You can either climb on a robust surface to clean it with a microfibre cloth or use a vacuum cleaner to extract the dirt.
Top of the Refrigerator
All of us are extremely vigilant about what we put inside our refrigerators. We have a schedule for checking what's in and removing things beyond consumable timelines. However, do we ever glance at the top of the fridge? We usually dump anything on the top of the fridge, thinking of moving it later and then forgetting about it. Even during the typical cleaning days, we neglect the area and do not see that there is so much on that surface. All one needs is a damp cloth and a couple of seconds to swipe the fabric on the surface and ensure that it's squeaky clean, just like the inside.
Mattress & Sofa
Every household has a deep cleaning routine when we remove all our linen and move it to the washing machine. However, we conveniently ignore the mattress, thinking it might be clean because we lay beautiful bedsheets over it. Assuming so is a mistake because our mattresses tend to accumulate lots of dust and need frequent vacuuming to get rid of it. You can also call cleaners in Penrith to steam clean your mattress and make it germ-free. The same goes for the couch since it collects all the crumbs and dust we leave on it, making it the favourite spot of pests. Therefore regular vacuuming and cleaning by professionals is the only way to maintain a germ-free surface.
Air Conditioner
If your air conditioner is consistently releasing musty air, know that there is lots of dirt trapped in the filters. Every two weeks, it's a good idea to clean the filters in a wall-mounted reverse cycle machine. If this is the first time you've seen it inside the device, you can get a terrible surprise.
For advice on how to clean the machine safely, consult the instruction handbook that comes with your equipment. Regular cleaning will guarantee the appliance functions as efficiently as possible by preventing dust and mould buildup.
Summing Up
Knowing about missed spots can help you to be more careful while cleaning and make the home dust and germ-free. If you want professionals to clean your home, contact Sparkleen Cleaning Services.