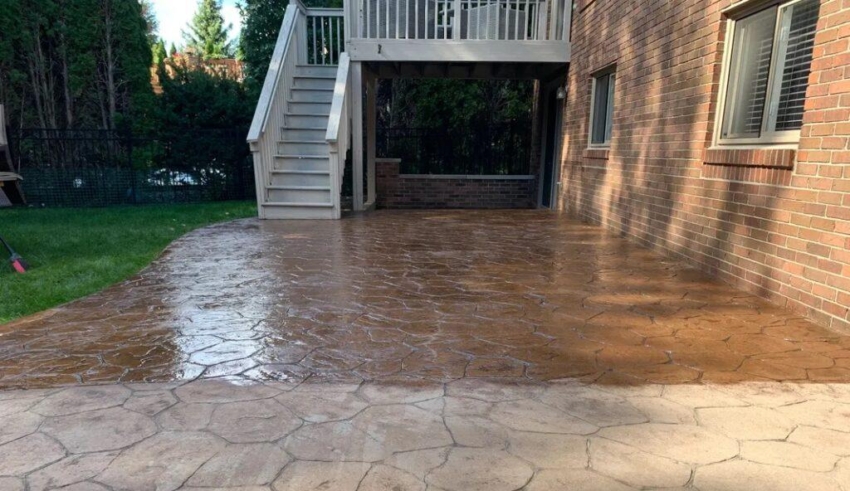 Concrete is a versatile and durable material used for various applications, from driveways and sidewalks to patios and pool decks. However, concrete is prone to wear and tear in places of heavy foot and vehicular traffic, such as offices and manufacturing units. The only way to avoid damage is to protect the concrete surfaces by regularly using concrete sealing in Melbourne or elsewhere. But there are varied types of concrete sealers available in the market, making it confusing to choose the right one.

You don't need to worry since we bring this article to explain the types of concrete sealers so that you can make an informed decision.
Acrylic Concrete Sealers
Thanks to their versatility and affordable price point, acrylic sealers are the most popular types on the market. These are a popular option for interior and exterior surfaces, providing good protection against staining and fading. However, the acrylic concrete sealers may lose their sheen and deteriorate quickly.
Acrylic concrete sealers are available in 2 types, i.e., water-based and solvent-based.
Water-based Acrylic Sealing: Water-based sealers are typically easier to apply and have lower VOC (volatile organic compound) levels, making them more environmentally friendly. However, these sealers are hard to remove and unworthy of temperatures under 50° F.

Solvent-based Acrylic Sealing: Solvent-based sealers, on the other hand, are more durable and provide better protection against stains and wear. Therefore, they are best for the outdoors but contain high levels of VOC.
Polyurethane Concrete Sealers
Polyurethane sealer is one of the most robust and abrasion-resistant surface sealers, perfect for sidewalks and traffic. Like acrylic sealers, polyurethane sealers come in solvent-based and water-based versions. It's popular for interior and exterior decorative concrete but becomes moisture-resistant only after drying off completely. For this reason, avoid staining driveways, walls, or other outdoor structures with polyurethane concrete sealer. Another potential problem with polyurethane is that this sealer emits high levels of VOCs and is one of the least eco-friendly concrete sealers available.
Epoxy Concrete Sealer
From countertops to floors, epoxy sealers can provide a glossy finish to concrete surfaces while protecting them from scratches. You can use epoxy both on multiple interior surfaces and on the floor because epoxy flooring options have friction and can be slip-resistant. Epoxy concrete sealer is susceptible to sun UV radiation and will discolour outdoors. So avoid using epoxy on the outside. Also, choose a water-based epoxy to avoid indoor VOC emissions.
Penetrating Concrete Sealer
Both individuals and businesses widely use penetrating concrete sealers to seal structures and surfaces. As the name suggests, it penetrates surface pores and protects against pressure and harsh weather. This concrete sealer holds up in extreme conditions and does not slip when it is too cold or wet.
There are four types of penetrating concrete sealers, i.e., silicates, silanes, siloxanes, and silicones.
Silicate Concrete Sealer
Silicates are a common porous concrete sealer because they contain tiny particles that penetrate the concrete pores and chemically react with lime and calcium to form calcium silicate hydrates. Common silicate concrete sealers in Melbourne are sodium silicate, potassium silicate, and lithium silicate.
A disadvantage of silicate-based sealers is that they cannot protect concrete from water damage. As such, there are better choices for an outdoor sealer.
Silicone Concrete Sealer
Silicone Sealers are a good option if you're looking for a concrete sealer that provides long-lasting protection against weathering and wear. Silicone Sealers form a tough barrier over your concrete surface that resists UV rays, moisture, and chemicals.
One thing to remember with silicone sealers is that they can be difficult to remove if you ever want to change the look of your concrete surface down the road.
Silane Concrete Sealer
Silane concrete sealers are resistant to mould and freeze-thaw damage, making them ideal for outdoor concrete structures in wet and cold climates. These sealers are common in highway and commercial concrete. Due to their small molecules, silanes penetrate deep into concrete pores but require a high pH to be effective.
Siloxanes Concrete Sealer
Siloxane is another waterproof sealant. Unlike silanes, siloxanes do not require high pH for catalysis. However, siloxane's large molecules make it less effective at penetrating deep into the concrete. If the concrete is very porous, concrete sealing services use siloxanes. Siloxane and silane work hand in hand to strengthen concrete. This combination utilizes the best of both sealants to create an effective barrier that strengthens concrete while protecting it from water ingress.
Polyaspartic Concrete Sealers
Polyaspartate sealer or poly aspartate polyurea is a recent introduction as a fantastic new concrete floor coating that offers remarkable properties. It works as a solution to a problem common to all other concrete finishes. Once cured, it can be applied at any temperature, dried or cured in as little as 30 minutes, and withstand extreme temperatures. It also adheres smoothly to any concrete surface and offers excellent UV and dirt resistance.
High humidity usually causes blistering, but poly aspartic acid provides a blister-free surface even in high humidity. They are manufactured with up to 100% solids content and are guaranteed to be free or low in VOCs (volatile organic compounds) when applied. Concrete sealing services use Polyaspartate Sealer on the exterior and interior of concrete, but exterior applications require a traction aid. They are increasingly becoming popular in laboratories, industrial rooms, homes, shopping malls, and other places that require quick turnaround times.
Summing Up
There are many elements to consider when choosing a concrete sealer, from the type of surface you're sealing to the level of protection you need. We hope the blog post has given you a better understanding of the different types of concrete sealers available so you can decide which product is right for your needs.
If you have any questions or want assistance selecting a concrete sealer, please don't hesitate to contact us at https://premiumconcreteresurfacing.com.au/concrete-sealing-melbourne/ , an excellent team owning more than 25 years of experience in diverse aspects of concrete repairs, rejuvenation and restoration.