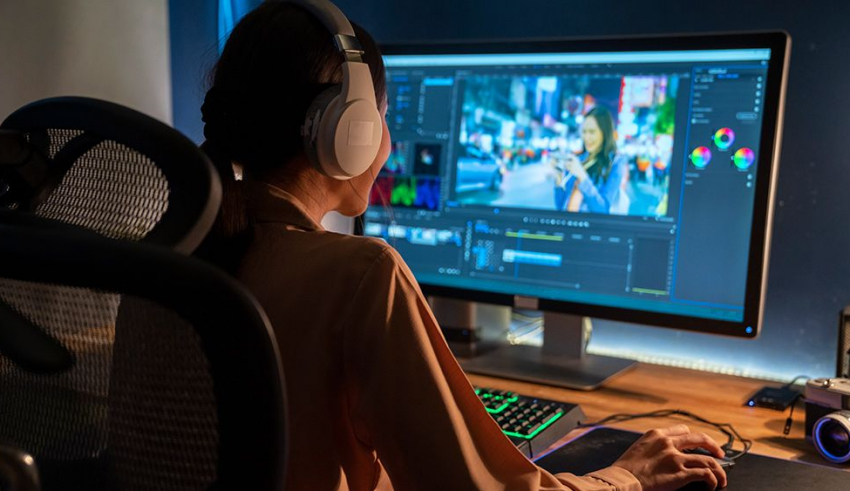 If you're looking for the best video editing software for Mac, it's important to know the pros and cons of the different programs. This article looks at DaVinci Resolve 17, iMovie, Premiere Rush, and Corel VideoStudio. These applications all offer different types of features, so you need to decide which one is right for you. If you're unsure of which one to buy, try comparing their features, as well as their prices.
DaVinci Resolve 17
For video editors, the latest version of DaVinci Resolve is the most powerful yet. It features advanced color management and effects that help simplify the editing process and enhance the quality of the images. Its features include a parallel node, which you can add by Right-clicking a layer and selecting "Add Node." This feature combines the influence of each node in parallel to reduce video noise. It also has a gradient function, which can be useful in secondary toning.
The DaVinci Resolve interface features seven panels on the bottom of the program window. These are corresponding to the seven stages of creation. The Media panel enables you to organize your material by using color-coding, bins, metadata, and other tools. The material monitor allows you to quickly identify specific clips and group them together. It also lets you export material without going to the Export panel.
iMovie
The iMovie video editing software is a simple and elegant piece of software for macOS and iOS devices. It has ten high-fidelity filters and lets you wirelessly transfer projects from your iOS device. You can use it to edit your movies, make them look their best, and even create trailers. Apple has been a leader in the video editing software market for years, so you're in good hands with iMovie.
While many simpler video editing programs are adequate for the basics, pro-quality programs offer more advanced features. Professional video editing software has a number of different audio and video tracks and provides a lot more flexibility. Apple's iMovie is a free video editing software that offers surprising creative control. The free version lets you import project files from the iPhone/iPad versions. It also includes audio and subtitle support.
Premiere Rush
Adobe Premiere Rush is a powerful all-in-one video enhancing app that works on your computer, iPad, and cell phone. It syncs with your phone, so you can edit your videos on the go and upload them with just one click. The software allows you to create professional-looking videos and share them on social media. You can even edit and share your videos on YouTube, Vimeo, Facebook, and other popular video sharing sites.
Its user interface is more straightforward than its rival, but still has the same basic layout. It contains a media browser on the left, a preview monitor in the middle, and a timeline on the right. It includes the standard editing tools, including a few sliders for colour, contrast, and audio. The software also has four-k-resolution video support. Getting started with Premiere Rush is a breeze.
Corel VideoStudio
If you're looking for a nonlinear editor that allows you to create and edit a wide variety of different videos, Corel VideoStudio is one of the best options. It is extremely user-friendly, and has a close relationship with its user base, including an active online forum. Many of the improvements that have been made to the software have been based on suggestions from users.
It comes with an enhanced media library and includes features for creating a multi-camera, multiple-camera and 360-degree videos. The software also supports 360-degree video editing and export to YouTube. The application also offers templates for instant projects, which mimic the look and feel of viral videos. Another unique feature of the software is the Mask Creator, which allows you to create unique effects by applying a mask over a video.
Adobe Premiere Elements
There are many reasons why Adobe Premiere Elements is the best video-editing software available. It has a comprehensive list of features and options, and it supports a variety of formats. Users can import their videos in various formats from their DVD player, webcam, and digital camera. Other features include support for new web media formats and social media sites. Users can also upload videos directly to YouTube. After all, everyone is a creator of content.
This video editing software features numerous editing tools, including automatic cropping and splitting. You can change aspect ratios and adjust video temperature. This software can also remove fisheye distortion. The software supports Nvidia graphic cards and processors. This is great for speeding up the rendering process, making it faster. It also backs up your custom organization and makes it easy to find what you're looking for.
Quick Imports
You may have heard about Quick Imports in video editing software. These programs allow you to import video, audio and images. You can use these to create a polished product with minimal effort. With these tools, you can import and export any format of video and image in minutes. You can add titles and music, filters and effects, and slow the videos. You can even place characters anywhere in the video. These programs are primarily available on Windows PCs, so if you're on a Windows PC, you should check them out.
Avidemux
Avidemux is freeware that lets you edit videos and audio. This program has many inbuilt features and is highly customizable. You can use the Joblist to manage multiple projects at once, and you can create custom scripts to select audio and video filters, video format, and encoder. If you're a novice, Avidemux is not the best choice for you. However, for advanced users, this free program has all of the features you'll need to create and edit professional-looking videos.
This free program is versatile and works with all major operating systems. It is even natively available for Linux users. Avidemux features all of the standard video processing features, as well as some extras. For example, it has a calculator that lets you estimate the file size of the final output, while most other programs require you to go through several export menus to obtain the information you need. Another benefit is the range of presets available for different devices, as well as low-quality settings.
Machete Video Editor Lite
Machete Video Editor Lite is a free software which you can use to edit your videos without spending much money. You do not need to download any technical documents or install any additional software. You can edit videos of different formats and even add subtitles. The only limitation of this software is that it supports only AVI and WMV video files. It also lacks the ability to edit audio. However, this software is a great option for beginners because of its simple and user-friendly interface.
Machete Video Editor Lite is a lightweight version of the premium software that allows you to edit videos without spending a single penny. However, it supports only AVI and WMV video files and doesn't support editing audio files or replacing audio streams. Its main purpose is to be a simple video editing tool for beginners. But if you're looking for more advanced features, you can upgrade to the paid version. The program has many features and an intuitive interface. You'll be able to start editing videos within minutes.
HitFilm Express
If you're looking for a free, simple, and powerful video editing software, then look no further than HitFilm Express. The free version of this program is considered the "young brother" of the paid-for version. This program provides many powerful features that will help you create the best possible videos. This software supports both Windows and Mac operating systems, and it has a variety of plug-ins to enhance your creative potential.
Although there are more robust desktop video-editing applications, many entry-level users don't need the latest features. Apple iMovie is an excellent choice, but only works on Mac. For semi-pro users, VSDC and OpenShot are both solid alternatives. And if you're a true videographer and want to make a professional-quality film, you should check out DaVinci Resolve.
Lightworks
The Lightworks video editing software has several powerful features that are useful in video creation. Its drag-and-drop editing capabilities enable you to combine media files from different sources. Lightworks also lets you combine multiple media files into one video, as well as use previously edited videos as a basis. Lightworks also offers a wide range of customization options, including the ability to save the workspace as a Room. Lightworks is a highly-rated video editing software.
The program supports a wide variety of output formats, including YouTube and Vimeo. You can use the free version to edit 720p MP4 videos, but the pro version supports an endless list of formats and resolutions. It supports almost every input format, including 4K video. Lightworks also has an easy-to-use user interface. All you have to do is import your video and set its fps to get started.
You may also like – Best Fashion Schools In The World