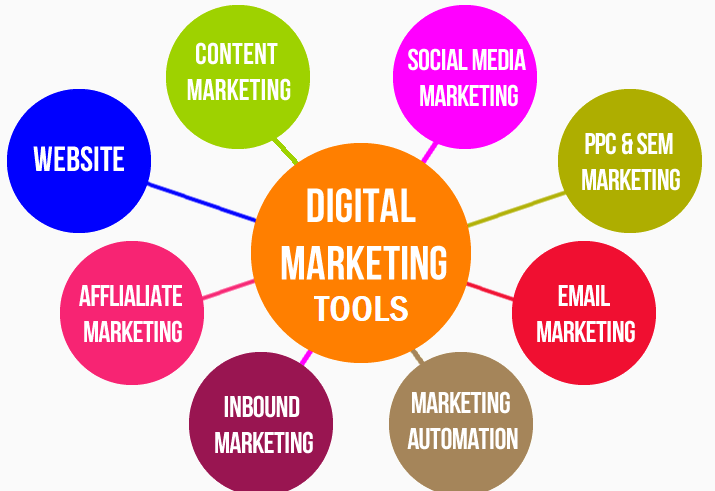 Nowadays, consumers search online for products they want or need to buy. In fact, a new survey reveals that since last year, there have been over 2.15 billion digital buyers worldwide. In order to meet their customers' requests, more companies are moving online. The internet, though, is a huge space. If you don't have the necessary tools to help your brand stand out, it's easy for your brand to get lost in it.
One of the smartest options is to implement an all-in-one solution, such as local marketing software, to manage all your marketing strategies , from PPC to SEO campaigns. Alternatively, you can choose a separate solution for each marketing campaign.
1. Social media marketing software
Social media is used by 90% of internet users worldwide. Because of this, the platform is among the best venues for companies to interact with their customers. Additionally, there are numerous strategies to promote your brand on social media. You can engage with your customers through posts and comments, collaborate with influencers, or use paid ad placements.
Therefore, social media marketing software is one of the essential digital marketing platforms for your company. You can use this software to manage your account on many social networking platforms. It acts as a centralized platform where you can keep an eye on and track your social media activity. You may use it to automate a variety of functions, including posting, and responding to remarks or messages, keeping an eye on your social media campaigns, and more. You can learn more about social media software by doing an in-depth social media marketing course.
2. SEO tools
Increase your brand's online presence via search engine optimization or SEO. This is the procedure for optimizing the content of your website so that it will appear higher in search results on Google, Yahoo, Bing, and other search engines. If you want to accomplish your business's marketing objectives, SEO is essential. This makes sure that buyers can quickly find your brand online when they use specific keywords.
To help you produce better and more effective content for all of your online channels, invest in SEO tools. Your websites, social media profiles, and other accounts are included in this. Various data can be analyzed using SEO technologies to ascertain the shifting online consumer desires. Then, it will provide you with the ideal keywords to employ for your content, headline, and tags.
3. Software for content marketing
It might be challenging to manage content across all of your internet outlets. You won't be able to do the necessary quantity of labor without the proper tools. Content marketing software is thus another crucial piece of digital marketing software for your company. This software solution assists marketing teams in strategizing, working together, and producing content to raise brand awareness, draw in new clients, and boost revenues.
Software for content marketing centralizes the operations related to creating and delivering content for all of your internet channels. This makes it simpler to track and evaluate the effectiveness and effects of all of your online material. It also aids in developing a multi-channel, data-driven, scalable approach to managing online content. By doing this, you can give your workflows less attention and instead concentrate on producing high-quality content.
4. Use of email marketing
In the digital age, email is still the main form of communication. As a result, email marketing is still one of the best strategies to raise your internet visibility and increase sales. Through their email inboxes, you can use it to inform customers about new items and discounts. Instead of relying on marketing to inform your clients, this helps build a more personal relationship with them.
Your email marketing efforts can be automated using the software. It guarantees that all of your emails get to their appropriate recipients in only a few clicks. Most importantly, you may segment your consumer base using email marketing software to make sure that they receive more customized and pertinent emails in their inboxes. Additionally, you can combine it with your eCommerce system so that clients can order any goods or services they see in their emails right away.
Also Read: Top Email Marketing Tools To Use For Email Marketers
5. Web analytics and marketing
A site and marketing analytics tool is a crucial component of digital marketing. Data is essential to the marketing of business expansion. It assists you in determining the advantages and disadvantages of your existing plan. Additionally, it precisely identifies areas where you need to improve, providing you with a clear understanding of how to create more effective marketing tactics.
Data can also be used to improve client connections. By centralizing all of the client data gathered from your many online channels, a customer relationship system, or CRM software, for instance, can assist you in using customer data. In this manner, you may easily access and examine consumer data whenever you want.
Your company in the digital era
If you want to stay current and competitive in the market, your company needs to integrate digital marketing tools and strategies into your processes. Fortunately, there is a tonne of easily accessible and cost-effective digital marketing options available. You can also get to know about various other tools and techniques by doing an online digital marketing course. So go ahead and investigate the tools that might aid in online business promotion.
Author's Bio


Karan Shah
Founder and CEO at IIDE
Karan Shah is an Edu-preneur, Tedx speaker, Harvard alumnus specializing in eCommerce, and the founder of IIDE – The Digital School.
He is a reputed author on the topics of education, digital marketing, and Ed-techs. Over the years he has penned a plethora of articles in leading news outlets such as Entrepreneur, BusinessWorld, Education Times, and Youth Magazine to name a few.