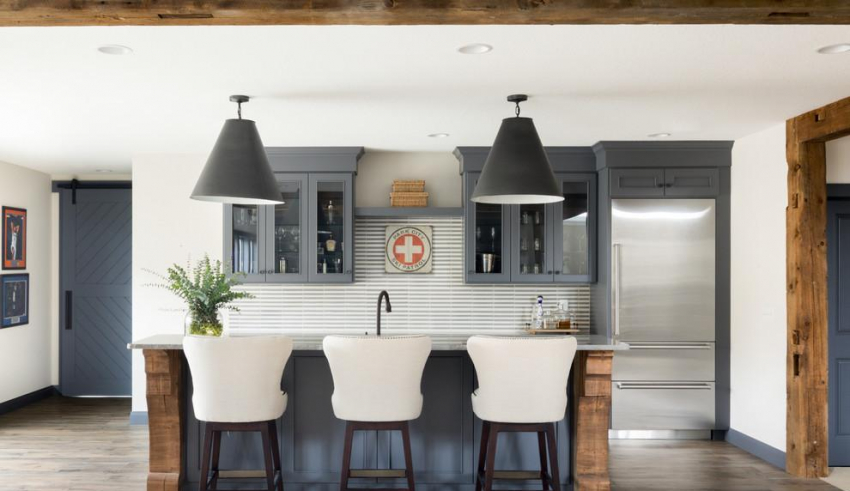 Having a bar at home is an excellent way to entertain friends and family. Or to drink alone if you're in a mood. These places are great for having fun without waiting in long lines at commercial cafes and clubs. A home bar is also a great place to host a party while learning how to mix and serve drinks.
You can equip a dedicated corner of your house with cheap bar furniture to set up a private drinking area. Start small with a simple cabinet, wine rack, and a few stools on your kitchen countertop. Then, you can furnish this corner over time. These can be some great pieces that will stay in your home for many years.
The first thing before buying furniture for your home bar is to measure the size of the area. You need enough space to move around and maximize the corner utilization. Then you can shop around for pieces you need, depending on your budget and taste.
Cabinets
The summer season is full of parties so setting up your home bar is a must. Cabinets are must-have furniture, as you will keep your drinks and essentials there. You can opt for ready-made models or order a custom-designed masterpiece. That will usually depend on your budget and style.
Cabinets usually come with custom storage spaces and a flat top surface for mixing drinks. They can also feature little cutting boards to allow you to cut ingredients without going back and forth between the kitchen and the bar area. These pieces can also include adjustable shelves, built-in wine racks, and glassware storage.
You can find the perfect selection of different cabinets in many designs, colors, and layouts to complete your entertaining area. These can be made of anything from classic wood to modern stainless steel. From traditional to contemporary, you can find everything you need to complete your home bar with style and ease.
Counter Bar Table
If you want to rearrange a corner of your house to an 'entertaining area,' consider buying a counter bar table. These tables typically stand thirty-four to forty-two inches high. They also make a great dining table alternative, offering a spacious and harmonious work surface. They can also serve as an additional prep surface.
A counter-height table is a way to go if you think of adding a modern look to your home bar. Combined with cozy seating, this furniture creates a more informal atmosphere in your entertaining corner. As a bonus, these tables are also great for small spaces like breakfast nooks and kitchenettes.
When buying this piece of furniture, you should consider the size and style of the home bar. They are often used for serving drinks, but their design allows them to double as workspaces. So choose models tall enough to lean comfortably. As for materials, frames can be made of veneers and solid as they look elegant. But choose water-resistant materials for countertops.
On the following page, find some ideas on DIY bar-height tables:
https://www.littleloveliesbyallison.com/diy-bar-table-projects/
Stools
With many models on the market, you can choose stools to match your table and room interior. They come in different heights and are suitable for indoor and outdoor use. To choose the right height, measure the counter and your height. You need these dimensions as sitting too high or low is quite uncomfortable.
Besides proper height, the stools should be stable and sturdy. Metal stools meet these criteria as you can use them both inside and outside. Wooden stools also offer great performances but are suitable for indoor use only.
Its seat should be padded well and comfortable to sit on. To get the most out of your stools, you should get models with a full-padded back and footrest. The latter makes these chairs comfortable for shorter people. You can also opt for a swivel stool that can be adjusted by hydraulic means.
Drink Trolley
If you have no place for a counter table, you can find a sleek, minimalist bar cart that matches your decor. These are like mobile drinking areas, as they store your beverages, bottles, and more. Many trolley models have shelves for glasses and wine racks on the sides.
But you can have carts even if you have a full-size home bar. These accessories are perfect for displaying your premium stocks and best-looking bottles. Also, they can be a great way to decorate your home and are easy to clean and move around when necessary. Check this link for some ideas on styling this trolley.
With various furniture pieces available, you can equip your home bar to your liking. Cabinets, seating, and tables should match your home decor and personal taste. Furnishing this corner to your preferences will make it a cozy place to stay, whether alone or with friends.