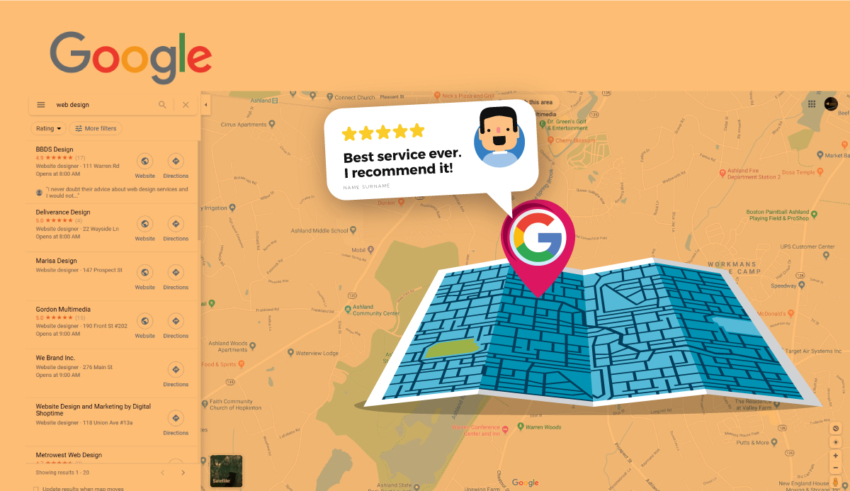 Your Google Maps listing is considered to be a crucial marketing tool for any business. It can assist you to get discovered by new clients, generate more business, and stand out above competitors. You can have these benefits if your listing has a good visibility. But just because your company is listed in your area, it doesn't mean that Google can automatically rank it.
The truth is that proximity is only one of several factors Google Maps considers when ranking business listings. There are many DIY Google Maps SEO tactics that can help to get your Google Maps listings to rank higher in search results and have all of the associated benefits. This article discusses how to rank higher on Google Maps.
Add your company to Google Maps
You cannot perform successful Google Maps marketing or rank higher if you fail to have a Google Maps listing. Therefore, if you are not sure or don't have Google listing, then you need to go to the Google Maps app on the Smartphone and look for the name of your business. If the name comes in the drop-down menu and has a location next to it, you have a listing. On the other hand, if the business name doesn't appear, then you can notice an option that is in the drop-down menu. You can use this option to add a missing place. When you click it, it will prompt you to offer your name, location, and category.
You should note that any person can add a business when it comes to Google Maps. Therefore, even if you haven't already done so, it's still a good idea to check and ensure that your company listing does not already exist. The good news is that the individual who adds your business cannot control this listing. Instead, the person who claims the listing by giving ownership of the business can have control.
Claiming your Google Maps listing
You now need to get your business to rank high on Google Maps. You can achieve this by claiming your listing. Remember that once you create your listing, you can just give the name, location, and category of your business. On the other hand, once you claim your listing, you need to offer more details about your business. It's a good idea to provide more information for your business listing so that it can rank higher on Google Maps.
You need to have a Google My Business Account to claim your business listing. If you already have an account, then you should just pull up the Google Maps business listing, choose the option that states own this business or claim this business, and simply follow the prompts.
Add details to the Google Maps business listing
After having a Google Maps listing as well as a Google My Business account, you can now optimize it so that it can rank higher in local search results. As explained earlier, your business can have a high ranking in results when you add more details in your listing.
You can add more details to your listing by logging in to the Google My Business account. You will find a dashboard that has many tabs down the side.
Choose the info tab that has your name, address, category, hours, special hours, website, special hours, and many more. It's worth mentioning that Google Maps ranks businesses that it can trust. You need to provide consistent information about your business. Also, you need to make sure that the business name is identical throughout the web as well as your other online properties.
You should also use a local phone number. Take note that Google doesn't like toll-free numbers as these types of numbers are usually used for spam. Therefore, you should utilize a local phone number that has the area code of your location. This can assist your business rank higher in Google Maps. It can also verify for searches that your company is located in your area.
If you utilize tracking, then you should use a tracked number for your business phone number. This includes your primary phone number and the secondary number should also have your main number. This helps you to get most of the calls coming in via the tracked line. With the main phone number in the listing, Google can match your phone number with the number on your site and other listings.
Google Maps business listings can tell visitors if your business is either open or closed. You need to update these hours so that Google can know that you are active. This can prevent customers from traveling to your store just to realize that it's closing or closed. As a result, this can lead to negative reviews that can hurt your ranking on Google Maps.
Add photos to the Google Maps business listing
No doubt, Google likes it when you add photos to your listing. This is because it shows that you are actively worthy to be ranked higher in search results. Aside from this, Google also loves it because photo-recognition technology for Google is advancing and can show images in local search results. Above all, this is because one of the best SEO tactics is that Google likes what consumers like, and customers like photos. Further, if you fail to add photographs to your listing, there is a chance that it may show a generic map image.
You should note that Google Maps listings that don't have photos tend to be less appealing to customers and might not rank higher as listings with photos. Therefore, you can improve the Google Maps ranking by uploading compelling and high-quality photographs to your business listing. This can capture what it feels like to be at your company premises.
The best way to do this is to go to the photos tab on the Google My Business dashboard and then click on the clue circle that has a white plus sign. You can then drag and drop many videos or photos simultaneously. Ideally you need to make sure that you add one or more photographs every day.