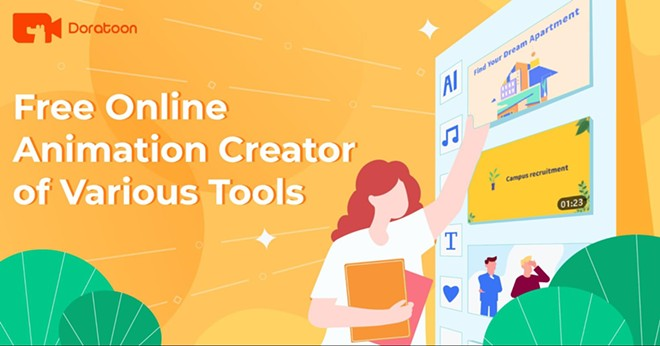 The market is full of 2D animation software and it is quite hard to tell what is the best among them. You must have to look for specifications and quality attributes before selecting an animation software. Recently hype has been seen on the internet by Doratoon software. The given article describes whether it is the best 2D animation software for 2022 or not.
Doratoon- The Best 2D Animation Software
In the latest world of digitalization, 2D animation software is helpful for businessmen, tutors, bloggers, and students. Doratoon is one of the finest animation makers that has eliminated the need of hiring an animator just to create an animation.
The software comes with bundles of advanced features and lets you create a masterpiece in no time effortlessly. Additionally, you are provided with uncountable customised templates for your easy creation.
It is not just an animation software but it also works as an animation editor. You can upload any video and edit it for customization. It is pertinent to mention here that you will have numerous editing options to get professional-level perfection.
Its user-friendly interface makes it an incredible choice for a layman who does not know much about animation creation or video editing. On its interface, you will find complete guidelines, video tutorials, and blogs so you can easily create any type of animation without needing external help.
Features that Make Doratoon the Best 2D Animation Software
Taking knots from the above discussion, it is the features of Doratoon that make it the best 2D animation software for all types of fields. You can read more about the versatility of software in every field of life. A few of its amazing features are described under:
This is an amazing feature of Doratoon as by using this approach you can grab the attention of the audience. You are allowed to line the actions according to your desired duration and the specific scene will remain on the screen for a specific time.
Readily available media are waiting for you to be included in 2D animation. It offers you 1000 + templates, unlimited video clips, and images that you can add to your animation. You are also allowed to add audio from a royalty-free music library or can upload it.
Besides the addition of all this content, Doratoon offers you full command to customise the content to enhance the relatability of your animation.
It contains professional features for the businessman and the other fields for professional working, marketing and advertising. You are allowed to remove the branding of Doratoon from the created animation. Even it allows you to add your logo to the video you have created or customised.
AI Dubbing and Subtitling 
Most of the features that Doratoon is providing work by using artificial intelligence technology. One of the advanced editing features includes AI dubbing and subtitling. Here you can dub your video by using text to speech feature or can add subtitles to your video by using your speech.
How to Create a 2D Animation on Doratoon?
As mentioned earlier Doratoon offers a straightforward process to create a professional-level animation effortlessly. Following are the steps that you need to follow in this regard:
Step 1. Sign Up
To create a 2D animation head towards the official website of Doratoon and click on the signup button present at the top right corner to access all the features.
Step 2. Create the Animation
After signing up go to the workbench tab and click on "create a new video" to start the process. Now you will be directed toward the main editing interface.
Step 3. Edit and Save
Now create your animation by using the options provided on screen. When you are done hit the export button to save the file to your device.
That's it! The animated video will be downloaded in MP4 format and HD quality. You are also allowed to share the file on different platforms.
Advantages of Choosing Doratoon as a 2D Animation Software
The animation world is full of animation software but no one can beat Doratoon in terms of advanced features and quality attributes. Following are the reasons that describe why you should prefer Doratoon over others:
High Level of Customization
The users can benefit from Doratoon by using the customization option. Because of this, they are allowed to use and work on already existing content and make it more relatable. This will save a lot of your time and effort to create a new animation.
If you are a beginner or a person who does not have any editing skills then Doratoon is the best available option for you to create a professional-level animation. It provides easily accessible features and guidelines to create animation quickly and effortlessly.
It is the best available option in terms of budget, you can create a high-level animation without emptying your wallet. Its basic plan costs 0$ and even the pro plan is also very reasonable.
Huge Stock of Templates and Characters 
Whether you are a businessman or an educator you will find a lot of templates of your interest. You just have to select a template and then edit it to customise.
Ending Remarks
You will find a lot of 2D animation software on the internet but Doratoon would be the finest one on the list because of its advanced features and incredible editing quality. Its working efficiency and productivity are much higher than its competitors.
Additionally, its editing tools help cope with the emerging digital world. If you are looking for the best 2D animation software then go and try it now!