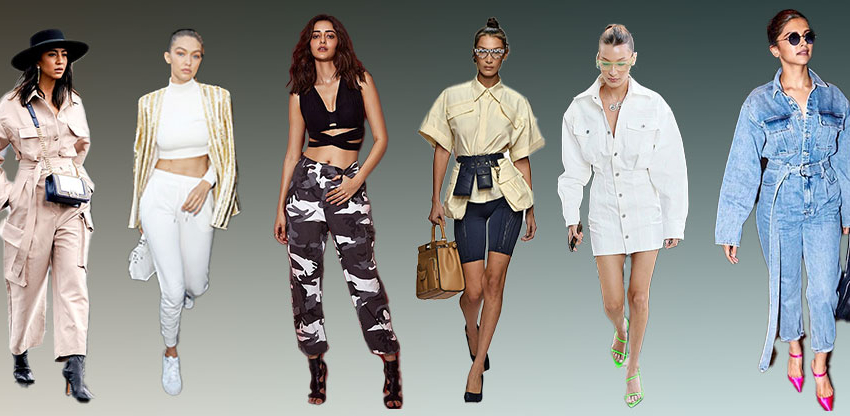 The future of fashion is all about utility. So forget about fast fashion trends because, in 2023, we are all about clothes that can keep up with our busy, on-the-go lifestyles. Also, we look for outfits that quickly transition between work, lounging at home or date night. These versatile pieces will spruce up your wardrobe, from cargo camo pants for women to jumpsuits.
The utility trend is in and of itself a nod to the past, but with a modern twist. Think of it as a love letter to the rugged, tough-as-nails fashion of the past, but with a dash of runway-worthy chic. So, whether running errands, climbing mountains, or just running late for a meeting, you will look and feel like a boss diva in these stylish and functional pieces.
The Evolution of the Utility Trend in Recent Years
The fashion world is ever-evolving, but in 2019- 2020, one trend stood out above the rest: utility fashion. This workwear-inspired trend was everywhere, from cargo pants to utility shorts, vests, shirts, and jackets on the red carpet, the street, and at major fashion shows. Streetwear fashion, in particular, craved the utility vest style for both teen and adult shoppers.
But the global pandemic of 2020 quickly changed everything, and the two most affected clothing categories were activewear and utility fashion. The emergence of utility street fashion is due to a lifestyle change, as more and more people adopt a nomadic mindset, desire to feel comfortable, and do not want to carry heavy bags.
The utilitarian trend has also evolved into different clothing categories, including vests, knitwear, shirts, sports jackets, and bottom wear. But, again, utility vests were a top-performing category during the men's 2019/2020 fashion show season and on New York, Paris, London, and Milan streets.
The Emergence and Rise of Global Nomad
As people increasingly explore the world, a new cultural change is happening: the rise of the Modern Nomad. The sharing economy trend has helped people migrate, visit different regions, and experience unique things.
Businesses responded by creating new marketing strategies to support these travelers. Millennials, in particular, find it pleasant to work from anywhere and anytime or go on adventurous journeys. As a result, clothing designers re-emerged cargo and utilitarian styles to promote this rise of a nomadic lifestyle.
The Influence of the Health Lifestyle Movement
The trend of health and wellness is also on the rise, with more and more people becoming health-conscious travelers. In response to this trend, travel companies are offering new offerings to support the well-being of tourists on the road.
As the demand for functional and utilitarian styles grows, designers focus on more reliable buttons, cables, fasteners, leggings, layering, and pockets to create the perfect collection. In addition, pockets have become central to the design of utility fashion clothing, and designers strive to make them both functional and creative.
Many utility fashion trends will steal the show in 2023 and beyond. So we will cover the most exciting ones.
Utility Skirts
Utility skirts bring back the nostalgia of the 90s with a modern twist. The revamped cargo skirts return with subdued or muted hues, including light shades of green, blue, and yellow. In addition, they are longer and feature elegant details, such as fancy belting, interesting pocket placements, and even laces.
To keep the look current and on-trend, pair them with an oversized shirt, a cropped top, or a second skin top. These utilitarian bottoms also go well with strappy heels, a white t-shirt or a roll-neck, and delicate accessories.
Modern utility skirts are a perfect combo of contemporary and vintage fashion, allowing you to show off your style credentials by embracing the 90s fashion trend. You may also pair a modern utility skirt with authentic vintage garments.
Camouflage Clothing
When most people think of camouflage clothing, they probably picture soldiers marching to battle. But let me tell you, gals, this trend is more versatile than you might think. With the proper styling, camo pants for women look romantic, feminine, chic, sexy, and edgy all at the same time. So give camouflage a chance, and you might be surprised how much you will like it.
Right now, one of our favorite utility trend combinations is wearing hiker camo pants for women, a sweater or cropped top, and a biker leather jacket. Of course, the laid-back outfit is only complete with the perfect pair of ankle boots or heels.
The classic combo of camouflage pants and a white crew-neck tee is the perfect way to look effortlessly stylish and put-together. You will be ready to hang out with friends, run errands, or do anything in between in almost no time. Then, slip on a pair of brown leather thong sandals to nail the look.
The Trust Cargo Pants
If you do not use cargo pants and utility trends, you may not have been keeping tabs on the fashion scene. However, they are workhorses of utilitarian fashion and great substitutes for your trusty denim and sweatpants.
The good news is that modern cargo pants are getting a revamp in soft silks, leather, and suede. And the best part? These new materials will make you look chic while still keeping you comfortable.
Utility Shirts
Today's utility shirts are highly versatile, stylish, and uber-function. Whether they are composed of cotton, faux leather, plaid, or classic khaki, these cargo shirts are the perfect match for any bottom, from flowy skirts to shorts, leggings, jeans, and tights. And if you are feeling too bundled up with all those buttons done up, leave a few undone and pop on a vest or a crop top for a fashion-forward statement.
Utility Dresses
The utility dress is the ultimate closet MVP, ready to save the day no matter the occasion. Whether you are heading out for a romantic dinner date or just a casual shopping trip with the girls, this dress can do it all.
Thanks to those handy pockets, it is elegant, versatile, and super convenient. As a result, you can keep your hands free, and your essentials close at hand. So, next time you struggle to decide what to wear, reach for your trusty utility dress. It is the ultimate multi-tasker that will not let you down.