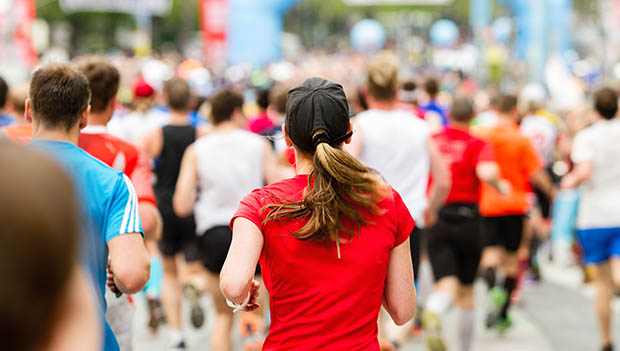 Running crowd at the marathon. Many runners passing the start or finish line. Woman in focus.
Running on a treadmill is indeed a peaceful experience. You are safe from the traffic in the roads, all the pollution, and you can run for as long as you want. Now, there is a new trend that is pushing running to a new fun level. It is called Online running and it is made possible through the app called Vingo. With this app by your side, you can get your outdoor feeling while you run on your treadmill and catch up with the outside world.
Running Solo on Treadmill Can Be Demotivating
Even as many people are moving towards treadmills, long time users have expressed the monotonous feeling that comes with the routine. They kept staring at the same old wall in their homes with nothing to stimulate their minds. As you well know by now, your mind needs some fresh air too. By fresh air, we mean the beautiful sceneries, and the realistic experience of running in the wild. Fortunately for you, the Vingo app can provide all the mental stimulation you need.
Running in the Online World is Interesting
The app uses virtual reality to provide the scenery and all you need is a screen placed before your treadmill. It can be your iPhone, your iPad or even your MacBook. The app is available for all Apple products and you can get it from the App Store. Once you install the app, you can create an account for yourself and add up to eight different profiles to the account. When you start your Indoor running routine, get into the app, and select from a range of virtual maps preloaded inside it. Then, you can start running in those locations and watch the scenery unfold before you.
Your Avatar Explore New Places in the Map
The Avatar is an interesting feature in Vingo. With this, you can create your own digital version and watch it running in the virtual tracks. You can customise your avatar by adding different outfits, equipment, and even your pet dog to it. You can change your appearance to suit your moods. The Online running app will make you a colourful star within the virtual world.
What Makes Online Running Different?
Don't Fall Prey to Tiredness
As you start your virtual training, you will definitely notice your performance improving. You will grow more consistent and your regular efforts will pay off with your physique getting better and better. You won't feel tired of running ever again with the app.
Run Along with People from Anywhere in the World
You will also find a lot of people running or cycling beside you in the virtual world. Some people use Vingo as an app for exercise bikes and go for online cycling trips. You can befriend them by talking to them using the voice chat feature. You can even join some communities within the app and work-out with people in there. The possibilities of exercises and fitness are endless with Vingo. You choose what you have to do but for a starter, carry out your running with the app.