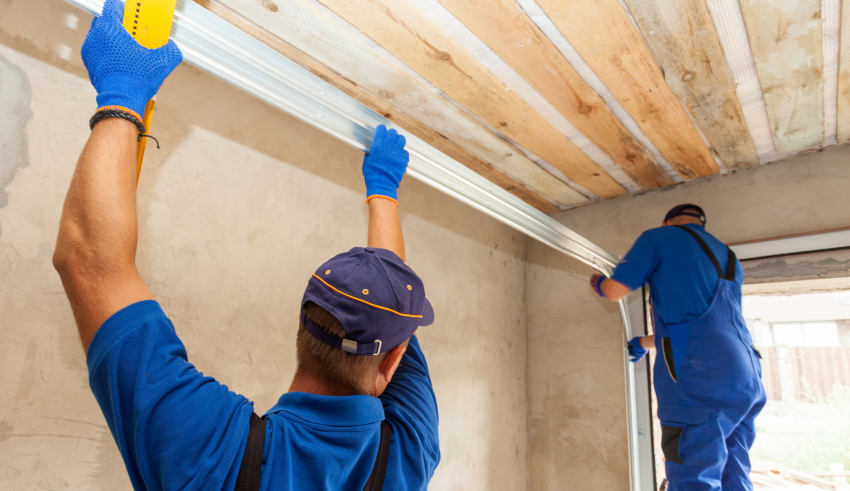 Garage doors installation. Workers installing Post Rail and Spring Installation / Assembly.
Is your garage door in need of repairs?
When it comes to maintenance, your garage door is one of your home's basic necessities. It's just as important as owning air conditioning, a thermostat, or proper lighting.
A garage door can cause accidents and intruders if it isn't working smoothly. You should call for repairs as soon as you start noticing signatures in your door's opening.
Schedule a garage door repair as soon as you can to keep your home as safe as possible. But when doing so, it's also important to know who you should trust.
Below, you'll find the essential qualities of a great garage door repair company.
The Company Should be Licensed, Bonded, and Insured
This indicates that the company is reputable and has the necessary qualifications to complete the repairs. It will protect you in the event that something goes wrong with the door or the company itself.
By being licensed, the company will have to follow certain regulations set by the state. This will ensure that they are providing a safe product for you to use.
Being bonded means that the company has put up money that will be used to cover any damages that they may cause. This is important in case of an accident.
Finally, being insured means that the company has insurance that will pay for any damages that it may cause. This is important in case of a lawsuit.
Furthermore, they will likely offer a warranty on their work, giving you peace of mind that the repairs will be done correctly and knowing that your repairs are covered in case something goes wrong.
Good Reputation
A company that has a good reputation will be able to draw in more customers and will be more likely to stay in business for a longer period of time. It is important to make sure that the company you are considering hiring has a good reputation in the industry. You can do this by checking online reviews and talking to others who have used the company in the past.
Should be Able to Provide a Fair Estimate
A garage door repair company should be able to provide a fair estimate. This estimate should include the cost of parts and labor. They should also be able to provide a timeline for the repair.
Check for special services such as same-day or next-day service, so you're not left waiting for days.
The Technicians Should be Experienced and Certified
You'll want to make sure the company you choose has experienced and certified technicians. This will ensure that your repairs are done correctly and in a timely manner.
Look for a company that has experience repairing all types of garage doors, offers a warranty on their work, and has a good reputation in the community.
Choose one that you can trust to provide quality service and you'll be sure to be satisfied with the results.
Choosing a Garage Door Repair Company
Once you identify a garage door repair company that offers the services you need, you should check for a few key indicators of quality. Make sure to do your research before hiring anyone to avoid any scams or rip-offs.
Always ask for multiple quotes and compare rates before making your final decision. With these facts in hand, you can make an informed decision about which garage door repair company to trust with your repair needs.
Need other home improvement tips, tricks, and hacks? Check out the rest of our blog!