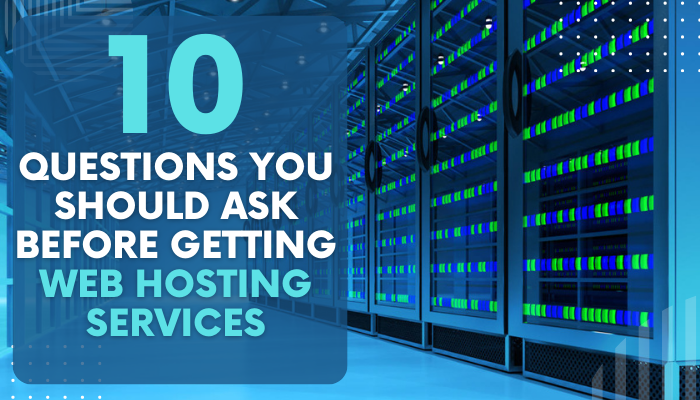 You should work with web hosting solutions to create a strong online presence, and therefore your website needs to be maintained by appropriate web hosting services. But the market is flooded with web hosting companies. Choose, the right service is tougher and tougher these days. We've got you covered if you're inexperienced with web hosting, so don't worry.
Finding high-quality web hosting services became essential to creating a successful website as the internet became more widely used and e-commerce became the standard. The performance of hosted sites can get suffered. because of some hosting firms' inability to handle the demand.
Research is essential while choosing a hosting service. The 10 questions listed below should be asked of any potential web hosting services.
Why Do Good Web Hosting Services Matter?
Web hosting is a service provided by a web hosting company; they provide the space where all of your website's data will be kept physically as well as the technology to broadcast your website so that it can be viewed online. A website's hosting provider determines how well it performs. Because a good web host is a necessary part of a successful website, locating one is extremely important:
It's also important to choose your Web hosting services and packages carefully because making the wrong option could hurt your company. It's critical for your site to function properly at all times as a business owner. Your website would also be unavailable if the server crashed, which would result in lost revenue.
Questions to Ask Before You Buy Web Hosting Services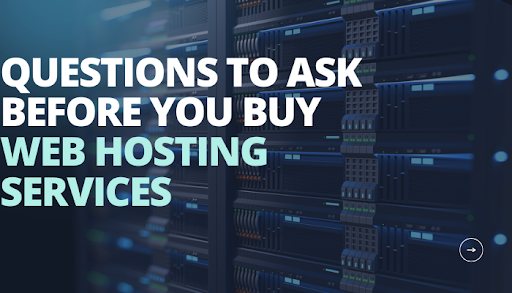 1. Do you Provide a good server uptime?
A trustworthy and reputable web host is essential. You would want one that brings on its nearly 100 percent uptime guarantee. Due to how it affects your clients' ability to use your site, uptime is crucial.
A reputable web host gives excellent uptime (99.99%). You lose traffic if your website is unavailable. A business that assures uptime is what you need. Avoid companies who aren't prepared to back up their promise with any kind of payment (a refund or more hosting time, for example).
2. How many Web hosting types does your company provide?
Your needs for web hosting could well be affected by the changing nature of business and the continuous increase in requirements over time. So that you may carefully prepare and make decisions, you'd want to learn what's on the table as well as the associated price.
In the future, you'd want to see if scaling up or down is simple. To prepare for what's to come, you should evaluate your scalability choices in advance. To accommodate these potential future changes, choose a Cheap web hosting service offering a variety of hosting solutions. The most prevalent types are as follows:
shared servers
Virtual private servers
Reseller hosting servers
Dedicated hosting server
3. Is the upgrade free or paid?
Throughout your agreement with them, a competent web host must be able to quickly adapt to you and your changing needs. Planning for expansion is an important aspect of managing a successful organization. As a result, you also need hosting customizable services.
Similar to how a sale may increase traffic, you might want more server space during busy times or your normal traffic might just start to increase quickly. Before finalizing the subscription agreements, search for any costs associated with the upgrading procedure. The majority of service providers don't charge for it, however, it's best to double-check.
4. Do you give secure web hosting services?
Website security is another crucial element for internet enterprises. Data loss and even privacy violations could result from a website with weak security. Therefore, it's essential to pick a web hosting services you can trust as well as a package that suits your demands. You have to be aware that various plans offer different levels of security. The following security elements are typically provided by reputable hosting providers:
DDoS mitigation

screening for viruses and malware

reviewing emails
5. Free SSL is there or not?
Technically speaking, SSLs by themselves are not free. If you want an SSL and nothing else, be prepared to spend. However, if you use an alternative service from a web hosting solution, you can acquire an SSL for nothing.
One such case is the inclusion of a free SSL in several web hosting packages with various servers. It is an essential form of security that contributes to maintaining the safety of both your website and visitors who visit it. For SEO objectives, getting an SSL certificate in position is extremely critical. It will help more traffic to your website.
6. Add-on domains allowed?
You can manage many domains from a specific account thanks to add-on domains. A new domain name that has an add-on domain associated with it points to a directory in your profile and saves its files there. Keep in mind if your hosting provider permits multiple add-on domains or not when you intend to operate more than one website in the future.
Imagine sharing a control panel with several hosting packages. Similar to how you set up your principal domain, you can establish email accounts, forwarders, and other things. So having this feature can be beneficial in the long term if your firm is new or if you anticipate growth in the future.
7. What is your backup policy?
When it comes to maintaining a website, backups are arguably among the most important requirements. This is because accidents can occur at any time, and if they do, you'll need your current recent backup to ensure your server quickly gets back in operation. Regular backups must be carried out to ensure that even the most current data is constantly stored.
Every day at the very least, the web server should run backups, which will enable you to recover your website if necessary. Remember that every file, especially database and media files, needs to be backed up. So when selecting a hosting service, pay extra attention to the terms of backups and how well protected the whole is, given different providers have varying methods of backups.
8. Is your technical team available 24/7?
Most people probably won't think to ask this question. But you must think about and understand the support you will receive from your hosting service. Check to see whether they often update their skill set or any active forums.
What resources are there for you to use when you need assistance? Are any live chats, mailing addresses, or toll-free phone numbers available? For the most part, assistance would be available around-the-clock, 24×7. Don't settle for anything less because you never know when you'll need assistance and because difficulties and outages can occur at any time.
Even though they have a strong support system in place, it is useless if there isn't a timely and helpful response.
9. How fast is the network?
Your hosting provider needs to be able to promise a specific level of performance and speed regardless of the kind of package you choose. For visitors, your website must load quickly. Although multiple elements affect how quickly a site loads, you should have a service that has the following features to avoid having low speed:
Compared to a normal hard disc, a solid-state drive will provide considerably quicker and more dependable service. This indicates quicker performance and a faster time for pages to load.

Resources: Increasing your website's RAM as well as bandwidth will instantly make it faster.
10
.
Can you satisfy my expectations?
Most hosting providers reach the conclusion that they give a high level of services. However, as you look closer, you can discover a lot of unpleasant gaps. Companies that are confident in their ability to deliver their clients' high-quality service aren't reluctant to make promises or provide a refund if something goes wrong.
The possibility that you could find a web hosting company that can offer you first-rate service and support as well as easy expansion and upgrade options increases if you follow to ask the question listed above.
Final words
Always keep in mind that the success of your company and brand depends on your ability to select the ideal web hosting services. Ask the appropriate questions, starting with the ones on the list given above. This can support you identify the best web hosting provider to expand your website with and make it a guaranteed success.
Without worrying about web hosting, you can focus on expanding your online business. By choosing the ideal web host, you will get all the resources required to launch and expand your website today and in the future.