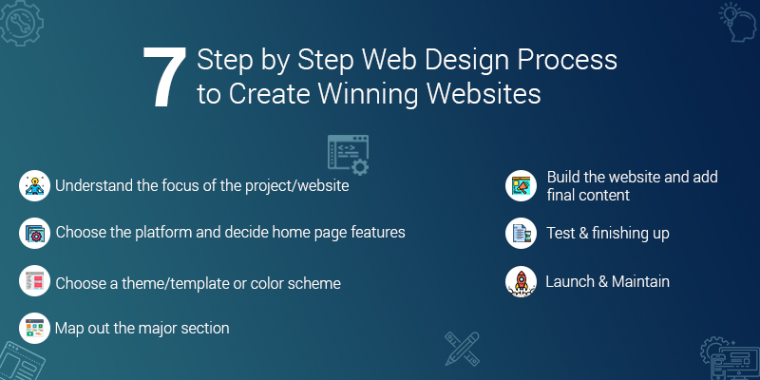 A branded website can serve you in various ways and it is the base of building a strong brand image. Creating a branded website is vital for small-scale businesses since they are not in the market for long, but a well-structured website can help them evolve and secure a place in the market. The first thing that an owner must do is tell about their brand, starting from the type of services they have to offer to the benefits. You can achieve this by hiring a creative yet professional web designer for your website.
It doesn't matter if you are building a professional website for your business or a personal blog; branding helps you create a unique persona in the herd of numerous websites.
Take a look at the 5 Proven Steps to build a Branded Website:
1. Colors:
When it comes to building your brand image, the choice of colors can prove to be a game-changer. Colors are associated with different emotions; you can combine and contrast various colors to deliver a message to the visitors and let them know about the essence of your brand. For example, if you are selling cosmetics, using pretty colors like pink, pastel green, yellow, purple, nude, etc., can bring that refreshing feel to your website. Colors symbolize energy, passion, power, and excitement. You should choose the colors that represent your brand's persona and the motive that you believe in. As in the case of cosmetics, you want people to feel confident and beautiful about themselves; you can choose bold colors merged with light ones to bring out both feelings. While picking a color for your brand, research its effects to assure a happy and prosperous emotion.
2. Character:
Consider your business website as a person, when you interact with someone, the other person notices your behavior, the way you communicate, and the likeliness of your conversation with them. Likewise, the people who interact with your website look forward to seeing if the website suits their purpose and offers the services or products they are looking for. Above all, the people notice the character of the website, the motive, goals, if the products or services you offer have any side effects on the nature of the ones using it.
3. Emotion:
When it comes to emotions, the aesthetic of your website says it all. Since you cannot be physically available on behalf of your website to welcome potential customers, aesthetics does its job. Here, you can choose numerous ways to communicate with your customers when they visit your website. It is up to your understanding and brand representation that can set the correct theme. You can decide what things you want to associate with your brand; it shouldn't be about following the latest trend but what works best for your website. If you assign your website to one of the best web design agencies in Perth, you will notice that creating the right emotion for your website is always on their priority list.
4. Consistency:
To build a successful branded website, you need to be consistent throughout your web design and afterward. You have to constantly introduce a new theme, depending on the new seasons, festivals, etc. You can introduce a sale, discounts to keep your customers motivated. You should keep updating your products or services lists by adding exciting new products to keep your customers hooked and this is the best way to attract your customers to revisit the site more often. Also, consistent layout and visuals allow you to share more of your content or images.
It will also result in the fast loading of your website. Consistency is the key for several aspects of the website; if you build a branded website, you must regularly put the best quality content. The content should be interesting and trendy enough to catch everyone's attention. You need to research and regularly post the content without degrading the quality. You should be consistent with the quality and follow the latest trends to establish your brand name.
5. Value proposition:
Proposition plays an important role in that first impression where your potential customer decides whether to stick around or leave the site. Your website should be correctly oriented. It means it should not be messy or clumsy to look at. It should be visible to the customers what your website is all about. Your website should carry a short statement about your brand and you can place it right on the landing page to get more attention. The motive is to briefly introduce your brand to the customers and tell them more about it. Since a visitor takes a few seconds to decide if the website seems useful to them, this is why you must give the best first impression. Make sure that the customers explore your website and navigate through it. The tone of your content should be in the right proportion.
Various Web Design Agencies in Adelaide conduct a meeting to get to know the essence of their client's website to create the required proportion. If your brand symbolizes a fun, jovial, friendly, and down-to-earth persona, try inducing this in the content. It will create a friendly environment for your visitors to navigate your website, and they might end up contacting your company to inquire about the respective products and services. It will help you attract more customers by advertising your best products on the landing page. These are the 5 proven steps to building a branded website. These are like the founding pillars of the website, and hence you should take extra care of all the points and apply it to your website to get maximum exposure and traffic. Once you are consistent with the updates and follow the various steps, you will notice a gradual rise in the traffic and customers' attention toward your brand. A brand cannot be built in a day; it takes a lot of effort and patience to set the path, step by step, you can get there with time.