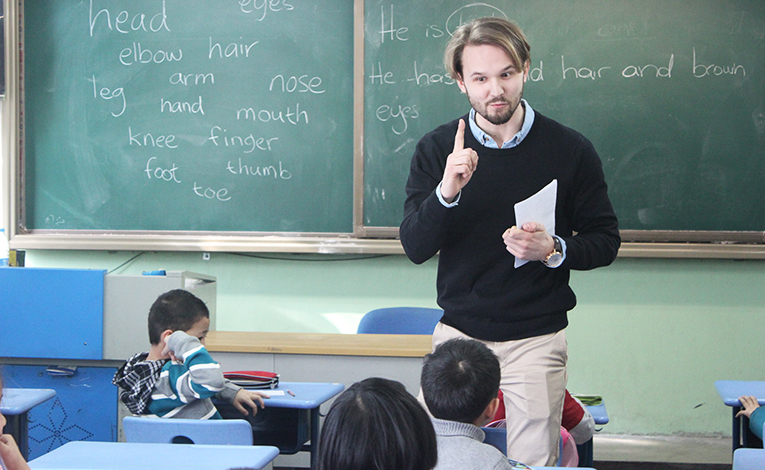 For decades, China has attracted hundreds of teachers of English as a foreign language (TEFL) with its varied and vast territory that covers over 9.6 million square kilometres and a breathtaking coastline that stretches over 14,000 km.
This incredibly large country has a population of over 1.4 billion people, 660 ultra-modern urban areas, 56 different ethnic groups, and 26 provinces – each with its own cultural background.
With so much variety, it's not surprising that many teachers looking for a new adventure during a gap year end up falling in love with China and staying there.
Working in China
A Z-visa is required to work in China. In order to apply for it, you need to meet specific criteria:
You must hold a passport from one of these countries: the UK, Ireland, South Africa, New Zealand, Australia, Canada, or the USA.
Male applicants should be younger than 60 years old, while female applicants shouldn't be older than 55.
You should be either a native speaker of English or highly proficient in the language.
You must have received a letter of invitation to work from your future employer.
Your background check should be clean.
You must pass a medical exam.
You must hold a university degree (a bachelor's degree as a minimum)
In addition, it is recommended that you obtain a 120-hour TEFL qualification. Although this is not a necessary requirement to apply for your visa, it will definitely make you stand out from the other applicants; having prior knowledge regarding the TEFL industry will give you a considerable advantage in this potentially competitive industry. Obtaining a TEFL certificate will show your potential employers your solid knowledge in the field and demonstrate that you are a professional and dedicated teacher, giving you more chances of getting hired.
This introductory course in the field will help you develop the skills you need to deliver your lessons confidently. Any TEFL course will cover areas such as pronunciation, grammar, lesson planning, materials development, and assessment.
Teaching in China
Living and working abroad is an important decision that needs to be planned carefully. What's more, if you are making a career change to become a TEFL teacher, there will be a lot to learn.
Classroom management: Classes in Chinese state schools are usually considerably larger than those in private language schools – this is a crucial detail that shouldn't be overlooked when deciding which job you want to apply for.
School resources: As it is often the case, schools located in large cities might be better equipped and have more up-to-date teaching resources than schools in remote areas. Be prepared to use online resources specific for the Chinese market – instead of YouTube, there's a platform called Weebo, for example.
Length of contract: Teaching contracts in China are 12 months long. If you sign a new contract with the same employer, you won't need to fly back to your country to renew your residence permit. If you change employers, you'll have to inform the local public security bureau.
Accommodation: Most employers will offer you housing allowance or free accommodation either in a one-bedroom flat or a bigger apartment to share with other teachers, depending on your preferences and availability.
Local language: Mandarin Chinese is the official language of the country and widely spoken across China. Without a doubt, learning Mandarin is no easy feat for a westerner, but it's always useful to learn a few basic words and phrases beforehand. Being able to say nǐhǎo (hello) and xièxiè (thank you) will definitely stand you in good stead with the locals.
Professional development. This aspect is vital for any professional individual who wants to excel in the education industry. Professional development takes time, money, and effort, so choose wisely. There are specific courses depending on the TEFL area you are involved in: young learners, exam classes, business English etc. Check out Teaching English in China: The Ultimate Guide – 2022 | TEFL Org to find out more about what to expect.
Living in China
Moving abroad is a big step that can stir up lots of emotions. It is important to look after your mental well-being by taking into account how culture shock might affect you. Learn as much as possible about the country you are moving to, its culture, and its traditions before you get there. You can find online forums and social media groups that will put you in contact with other expats before you travel, to get an unbiased feel of what living there might be like – just remember that everyone has different expectations.
There is so much to see and do in China that you'll be spoilt for choice. Once you've settled and you feel more comfortable in your environment, make a plan of what you want to see, how to get there, and how much it is going to cost. Here are a few places that might interest you:
The Terracotta Army: Erected around 280 BCE to protect the First Emperor's tomb, it is the most important archaeological discovery in China. It was unearthed by local farmers in the 1970s as they were digging wells. This army consists of 520 horses, 100 chariots, and around 8,000 life-size warriors;
There's a Chinese saying that states that you're not a true man if you have never been to see the Great Wall. Also known as 'Long Wall' or Changcheng, the Great Wall of China is more than 21,000 km long and stretches across 15 provinces;
The Imperial Palace, or the Forbidden City, is the largest building in the country and also the most important. Located in the centre of Beijing, the palace covers an area of 720,000 square metres. If you decide to see it with your own eyes, take into account that a visit will take around two to three hours, including a trip to the Palace Museum.
One final thought
China is an exciting and fascinating country to explore. Living and working there teaching English as a foreign language will give the unique opportunity to view incredible sights, explore stunning landscapes, and experience the hustle and bustle of hyper populated cities. Keep in mind that the educational system and the working conditions can be very different from those in your home country.