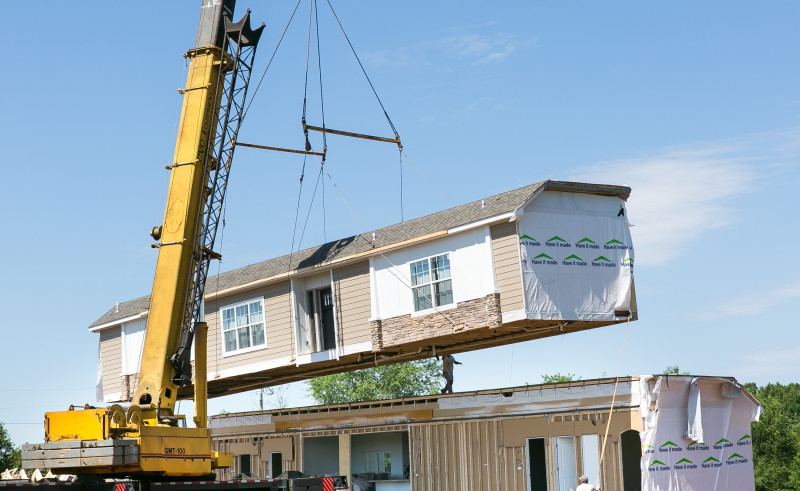 While most people probably haven't given it much thought, how many trucks would you estimate it requires to move a full sized prefabricated wooden home?
If you think this can be accomplished with just a single truck, you are way off. 
One of the most common first questions we receive when we say we work with prefabricated homes is:
"Prefabricated homes…? How can you ship an entire home?"
And if you are like most people, you may be wondering how it's even possible to fit an entire home onto a truck.
In all reality, you are going to need way more than just a single truck to transport an entire full sized custom made prefabricated home. How many trucks will be needed ultimately will depend on many factors. In this article, we will cover some of the most important things you should know about transporting a mobile home. 
Long are the days when prefabricated homes were once considered ugly or small and could actually be shipped using a single truck. This is of course not the case anymore today. Today's prefabricated wooden buildings are able to be constructed either in modules or in elements. This allows much larger homes to be created with more complex and architectural design choices available. 
Modules can be constructed in the factory and are usually quite large (up to 15 feet in width). These types of shipments require a special oversize load transport and have several limitations placed on which routes they can legally travel on. This makes transporting modules somewhat more difficult and why it won't be covered in this article. 
Elements however can be hauled using regular trucks and can really help bring down much of the shipping costs.
Truck Size
Before production begins, any home being built with prefab wooden elements is divided up into panels. After this, each element will be carefully designed. One home can easily contain over 100 elements making it much like a giant 3d puzzle. 
The maximum dimensions for any one element will depend on the size of the truck being used to haul the element to the construction site.
Standard measurements of the truck being used for this purpose are:
42 feet long
8 feet wide
9.8 feet high
Remember that these are the exterior measurements of the truck. The truck will obviously have a smaller loading capacity than this. The gross loading capacity for a truck is around 196 cubic feet. The biggest measurement restriction is the height and if the elements are too high they won't be able to fit on the truck.
Recommended floor heights on a prefabricated wooden home made with elements is about 9 feet. Most current projects have designed these homes with a floor height between 8.2ft and 8.8 feet. This helps lessen the overall number of elements required while minimizing the amount of required crane lifts to move the elements on site. Crane time itself is generally very expensive. 
The design should also be optimized to help lessen the amount of trucks needed in order to deliver the house kit. By having an optimized design in place, you can effectively minimize your shipping costs.
How Many Trucks Do I Need?
This of course will all depend on the size of your home. This will also be affected by the thickness of the elements. If your elements are thicker, the home will be more energy efficient. This is because of the amount of insulation fitted inside of the walls and in the roof. 
By having thicker elements, you can have more insulation. It's ironic however that the more energy efficient your home is, the more trucks required in order to ship it. This translates to more CO2 that will be generated during the transport. This generally isn't a side effect so drastic, and you may only need one additional truck to ship a home with thicker walls.
Producers will be able to take into account the element's actual size and the amount of trucks needed for the job with pretty good accuracy.
What Will The Cost Of Transport Be?
So how much will all of these trucks cost? There really isn't a definitive answer to this question since pricing will depend on your location as well as the location of the manufacturer you are purchasing the home from. 
For a home requiring 7 trucks for delivery, the price can range from $17,000 to $ 32,000. If you can optimize the size of the home, you should be able to save on at least one truck. This may or may not be an appealing option to you but worth considering never the less.