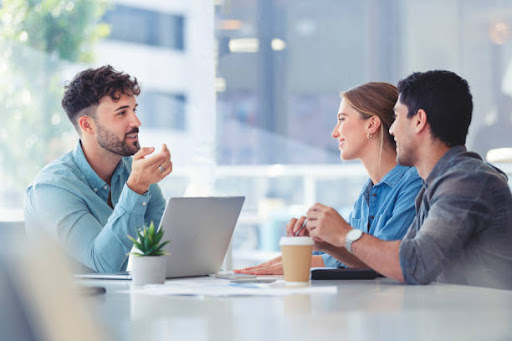 Financial advisor with couple explaining options. The agent is using a computer. Couple are casually dressed. They sitting in an office and are discussing something with the agent.
In era of digitization, the investment industry is going through multiple problems during the investor onboarding process. For attaining investments, customer enrollment process plays a crucial part as it is the first connection between organization and investing parties. If an organization does not have a powerful investor verification solution, the new investing party receives a bad impression that leads to cancellation of investment. Cybercriminals have various complex techniques to exploit shortcomings in security measures. In this case, the investment industry must opt for powerful online investor verification services to safeguard incoming investing parties. Guaranteeing compliance with KYC/AML regulations will also become easier for the organizations.
Working Operation behind the Online Investor Verification Solutions
The investor verification procedure can vary depending upon a country and its local regions. General outlook of Know Your Investor (KYI) system is as follows.
The solution instructs investors to display their ID cards in front of a webcam
The latest OCR technology captures information from government-issued documents and saves it in organization's database
Online Investor Verification solutions also cross-check the party's credentials against multiple global watchlists. The chief objective behind this technique is to deter any high-risk clients and evaluate liability linked with their profile
After the finalization of process, online investor verification solutions show final attestation results to clients
Documents Acceptable for the Online Investor Verification Systems
Below are some official documentation that is acceptable for the know your investor system. There are multiple templates for the following records in different nations. Nonetheless, the synthesis of AI with online investor verification solutions allows digital solutions to process multiple templates without lowering quality of output. The application of AI software conveniently produces output instantaneously. Thousands of Artificial Neural Networks (ANNs) enable the solutions to tackle massive volumes of data while ensuring accuracy of results.
Official documents from all relevant stakeholders
Articles of Association
Proof of Address (PoA)
Government-issued ID records
Registers of Directors
Banking details
Certificate of Incorporation
Choosing A Suitable Track for Online Investor Verification Solutions
Involving Money Laundering Reporting Officers (MLROs)
Without a question, compliance experts will verify the investing parties' identity by attesting ID cards and official documentation.
Hiring Personal Team Members
Ensuring total authority over investors' data by a private team procedure means the sector will acquire investors' ID cards and official records. Finally, securing them in back office.
Relevant Investor Entities for KYI Solutions
Following is a listicle of suitable parties that can progress in the online investor verification process.
Shareholders of the organization
Private Equities (PE)
Directors of the company
High profile entities
Ensuring Quality of Service (QoS) during Online Investor Verification Solutions
Investing parties and industries that want to opt for the KYI systems must do in-depth research about process. Subsequent factors should be incorporated into procedure.
Reliability
Security
Privacy
The aforementioned elements are critical because investor information is crucial. If cybercriminals acquire it because of outdated security protocols, it will damage their reputation and incur a financial loss to all pertinent parties.
Hackers always exploit poor security protocols and also implement complex methods to hide their illicit money. For example, criminals take advantage of chargeback fraud to obscure the source of money by transferring it through multiple organizational hierarchies.
The Intervention of Securities Exchange Commission Acts (SEC) for Online Investor Verification Solutions
The safety Acts, endorsed by the SEC have two main purposes. Investing parties must be aware of objectives before making any investment decisions. Reducing terrorism financing and money laundering cases is critical more than ever.
All investors must undergo required registration process with the organization and share needed financial data
As per the SEC guidelines, information must be accurate to guarantee secure financial exchanges between all entities
Advanced online investor verification solutions are extremely facilitative for the investment sector. Helping investors by ensuring compliance with global regulations and evading financial repercussions. The AI-driven system produces output in no time without compromising accuracy. Above-stated guidelines are crucial in the interest of safeguarding rights of all parties during procedure. Hence, SEC's contribution strengthened online investor verification services for the industry.
Concluding Thoughts
The investment industry is taking active steps to streamline onboarding process for incoming investors. Nevertheless, risk of outer threats from criminals will always be there. In this case, it is crucial that the investment sector implement latest investor verification solutions with the passage of time. Such kinds of techniques will enable real investing parties to get in touch with the organization. Applying online investor verification services deters cybercriminals from exploiting the industry's database. Such an approach sends a positive message to incoming investing parties about the security of their investments.