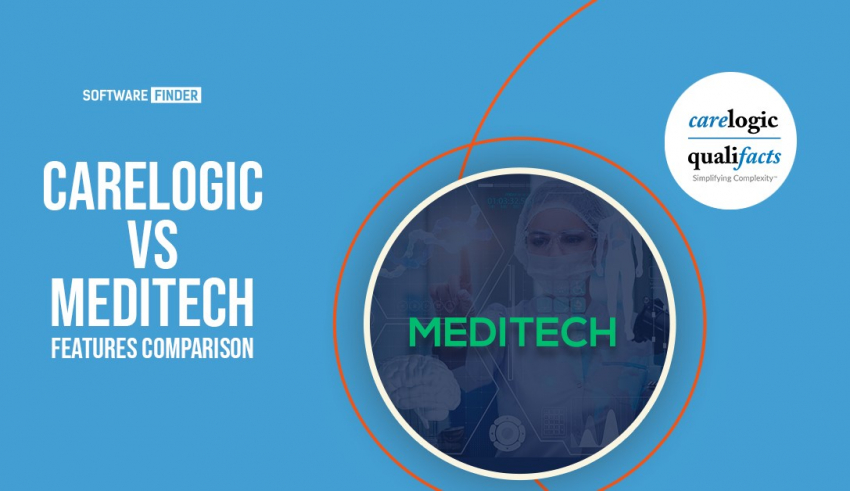 Qulaifacts Carelogic vs. Meditech – Overview:
About Meditech EMR:
According to MEDITECH EMR, every patient should be able to access their health information and take an active role in their care. We believe that having immediate access to records, information, and data will help every healthcare organization serve its community more quickly and safely. With its configurable Software Platform, Meditech EMR as a Service (MaaS), and its strategic alliances with Google and Apple, we are equipping healthcare organizations with better tools for safe and affordable care. Meditech EMR will be prepared for the future thanks to mobility, genomics, and AI advancements.
About Carelogic:
A web-based electronic health record (EHR) system called Qualifacts CareLogic is ONC-certified and was created specifically for behavioral (mental) health and human services organizations. The Qualifacts CareLogic EHR platform has a rules-driven validation engine that can be customized by system administrators to replicate existing workflows. Qualifacts CareLogic is offered on a per-user, per month basis. With the aid of clinical tools created to significantly broaden the scope and depth of your knowledge and improve the efficiency and effectiveness of care delivery, Qualifacts CareLogic enables you to support better client outcomes
Qualifcats Carelogic EHR Features:
Claims Management:
Your business risks experiencing revenue leakage when you don't receive payment (either in full or in part) for the services you provide if you manually generate claims and post payments. With a thorough, intelligent claim and billing engine that generates a claim automatically, the CareLogic EHR is made to assist behavioral health organizations in overcoming these difficulties (typically within 24 hours after services are provided).
Due to several checks and balances, CareLogic qualifacts are also intended to assist you in boosting the percentage of clean claims you submit and preventing denials. Even after the claim has been submitted, you can avoid losing money using the CareLogic digital health record platform. Carelogic EHR in-house developed My Collections feature builds an accounts receivables dashboard that gives visibility and detail to outstanding items and enables managers to allocate particular portions of an aging claims set to particular staff work queues. A lot of Carelogic reviews talk about this feature.
Documentation Management:
More than just writing down your client's diagnosis and treatment plan, CareLogic can assist you. To ensure that patients receive the appropriate diagnoses and treatments at the appropriate times, our comprehensive behavioral health record (EHR) platform can assist you in making more strategic, data-driven decisions at the point of care.
You can set up Qualifacts CareLogic so that it prompts users to act and make course corrections based on evidence-based practices. Clinical evaluations, lab orders, medication changes, and follow-up appointments are just a few examples. For instance, the platform can be set up to send alerts based on assessment results, lab results, and diagnoses that include recommendations for risk assessments or treatment interventions.
Compliance and Quality:
Work in compliance or quality at a behavioral healthcare organization. You must be able to quickly access the appropriate information to avoid issues before they happen and to address brand-new problems as soon as they appear. Because of this, we make it simple for you to quickly pull the appropriate reports and client documentation. Qualifacts CareLogic is made to assist you in navigating the complexities of compliance in addition to assisting you in gaining access to information.
You don't have to navigate the complexities of compliance on your own if you're committed to helping clients with behavioral health issues. Together, we can assist you in understanding complex or ambiguous laws and implementing best practices throughout your company.
Meditech EMR Features:
Integrated RCM solution:
To help with all facets of your organization's billing and collection efforts, MEDITECH's Revenue Cycle solution focuses on automating billing claim tracking across numerous facilities, including acute, continuing care, and ambulatory. Reduced AR days and optimal reimbursement are made possible by support for both centralized and decentralized billing, conflict checking, rejection management, and integrated charge capture. Your staff can actively handle all client and guarantor billing specifics from a single desktop, thanks to work lists and messaging capabilities. Meditech EMR interactive dashboards also give managers the option to drill down and report on revenue, receivables, cash flow, and office productivity.
Patient Portal:
By providing them with online access to essential health information, MEDITECH's Patient and Consumer Health Portal actively involves patients and authorized proxy users in their care. A single portal allows patients and their authorized healthcare representatives to manage a variety of health data from any location at their convenience. Patients can manage appointments, update and review their patient data, pay bills, and more. By enabling patients to access the Portal's full functionality on smartphones or tablets, the MHealth app increases the Portal's usability and accessibility. The ease with which patients can manage their care and monitor their health thanks to the Portal's accessibility from practically anywhere at any time. The Portal can be accessed through a browser and is available in English, French, Canadian, and Spanish.
Imaging and Documentation Management:
The Imaging and Documentation Management solution from MEDITECH boosts the effectiveness of diagnostic imaging departments with tools to organize patient care from ordering to results reporting and streamline workflows and manage workloads. Meditech EMR system solution, which was created especially for imaging and mammography departments, speeds up the entire exam procedure. Your staff can efficiently order, schedule, and record exams through role-based desktops, track clients, view detailed images via our PACS UI, and document results. Departments can track the status of patients from arrival to departure and beyond with the aid of patient tracking and follow-up tools.
Patient safety is ensured by interaction and dispute alerts generated by decision support tools embedded in radiation dose tracking systems. The use of voice recognition and an electronic signature speeds up the reporting of results. Clinicians constantly have access to the most recent data.
Last few Words!
It's important to take the features and functionality into account, just like with any business software solution. The tool should support the procedures, workflows, statistics, and requirements that are significant to your team. Based on some of the most crucial and necessary medical features, we compared Qualifacts Carelogic vs. Meditech EMR to aid in your evaluation. Schedule a demo with both solutions to know more about them!
You can also check out: Acumen EHR and Its Core Features!