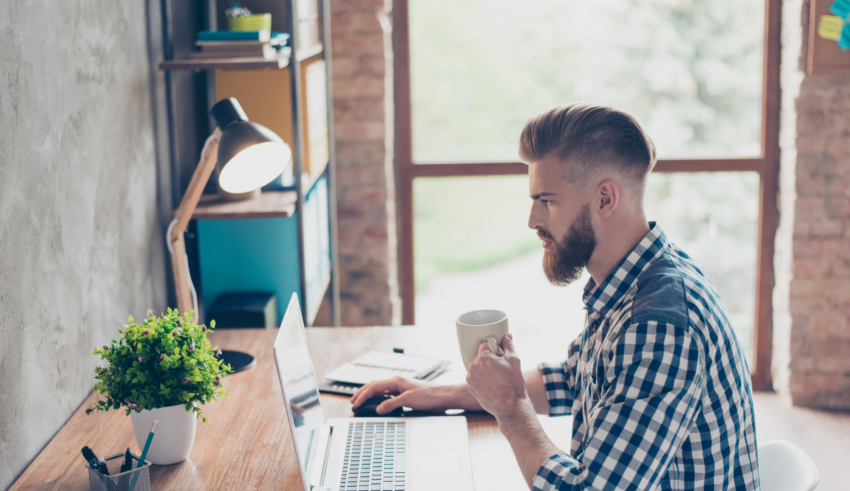 Handsome focused concentrated thinking pondering pensive browsing reading chatting online email playing accountant drinking tea using netbook for checking post networking at workplace
The number of people working from home tripled in 2021 with now about 27 million people being remote. Without the distractions that come from being in an office building, many workers get more done.
Remote employees are also happier thanks to having an excellent work/life balance, and they can save time and gas money. There's a lot of freedom in being able to work from anywhere in the world as well.
These are only a few benefits of working remote. Check out this guide to learn why you should ask your boss if you can do your job from home today.
1. The Freedom to Work From Anywhere
One of the biggest benefits of working remotely is the fact that you can do your job from anywhere that has an internet connection. As long as the Wi-Fi is good, you should have no issues using basic remote work tools.
Many people take their laptops on vacation with them to get work done in a hotel room. You can become a digital nomad and travel around in an RV.
Keep in mind that you will need to talk to your boss before you take your laptop to your favorite cafe. Some employers do have certain rules. For example, you might be required to use a hard-wired internet connection.
2. Work/Life Balance
The benefits of remote work don't end with the freedom to work on the go. In the case of most work-from-home positions, you'll be able to choose your own schedule.
No longer will you have to worry about being late to pick up your children from school.
If you tend to be more productive after the sun goes down, you can put yourself on the night shift. Like sleeping in? That's no problem at all.
3. Less Time and Money
Some people travel an hour both ways to get back and forth from work every day. That kind of commute will take up a lot of time and gas.
If you work remotely, you can crawl out of bed right before your shift and log into your computer in a matter of minutes. Since you won't be using your car a lot, you won't have to fill up as often.
4. Access to More Opportunities
When looking for in-person office jobs, you're limited to the businesses that are in your area. If the job market in your small rural town is lacking, you'll have to drive to the nearest city.
Work-from-home positions offer a lot more opportunities. You can get a job with a company located halfway around the world from you as long as they're hiring people in your location. To find a remote legal job, go to https://www.axiomlaw.com/remote-legal-jobs.
Top Benefits of Working Remote
Are you tired of working in a stuffy office? As you can see, there are many benefits of working remote.
Not only will you save on gas, but you'll also have access to more opportunities, and you'll have almost unlimited freedom. What's not to love?
Need some tips that will help you get the hang of working from home? Visit the Lifestyle section of our blog!