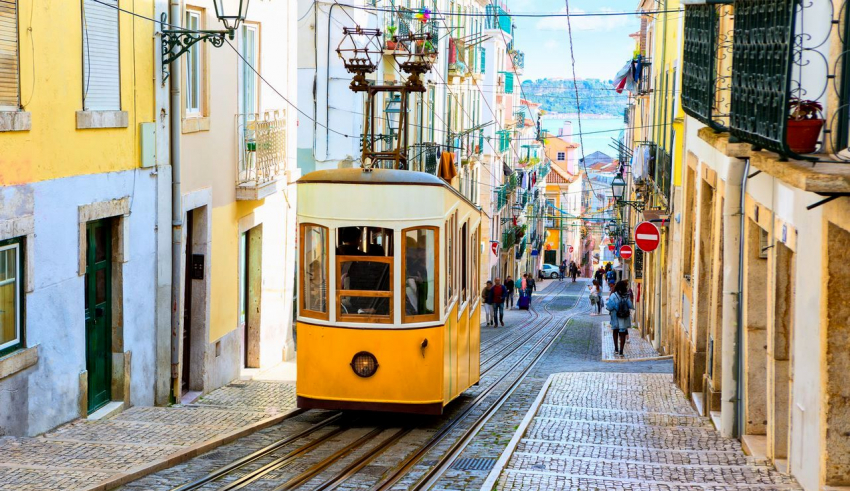 On November 1, 1755, Lisbon suffered a disastrous earthquake that caused 20 feet-high waves to travel for 3,790 miles. The result was drowning and fires that lasted six days, killing 60,000 people and causing mass destruction.
Today, Lisbon, the Portuguese capital is the center of commerce, entertainment, arts, education, and tourism. It recovered from the devastation to become one of the most vibrant European cities.
There are great places to stay, like Baixa, one of the traditional neighborhoods. You can also select one of the modern places like Parque das Nacoes to experience a different vibe.
To save you from wasting time on unsuitable options, we've rounded up the five most suitable areas to stay in Lisbon. Here they are:
Baixa
Baixa is Lisbon's most famous neighborhood. It's located between Alfama and Bairro Alto and was built after the 1755 earthquake. Baixa is an excellent recommendation for your first visit since it's accessible to all parts of the city.
There are plenty of shopping hubs and Portuguese restaurants. Transport is also excellent and you can easily access Lisbon's buses, metro, and tram network.
The area has some of the most diverse accommodation options in Lisbon, from luxury hotels to simple and modern apartments.Finally, old offices along River Tagos have been converted into guest houses, so there is accommodation for everyone's budget.
Arroios
Arroiros may be a small neighborhood you can walk across in 30 minutes, but that didn't stop Time Out from naming it one of the world's coolest neighborhoods in 2019. You will love the beaches and cobblestone streets vibrant with 1700s architecture.
Getting to Arroiros from Lisbon's central business district will take you about three minutes by subway and 22 minutes on foot. Families with kids can therefore take them to school in less than 10 minutes. Health centers, a public library, and a police station are also nearby.
If you are looking for an apartment there, they are more spacious than in older Lisbon neighborhoods like Bairro Alto. You are also spoiled for choice with numerous restaurants that litter the streets.
Bairro Alto
Bairro Alto is characterized by narrow streets which get lively with parties and parades during summer and festivals. The streets are busier than the bars as people love to drink out on the streets. Party lovers will adore this place.
The district is full of attractions such as the Church of Sao Roque, the oldest Jesuit religious building. The Botanic Garden of Lisbon also features up to 2,500 spices and is a great relaxing place.
Though this neighborhood is bustling with activity, its hotels are away from the noise. Private apartments and hostels are the best places to stay in Bairro Alto, but there are traditional hostels too.
Chiado
Chic and artistic, Chiado is a Bohemian neighborhood compared to Montmartre District in Paris. It attracts shopping and design lovers, not forgetting food lovers too, as they have access to world-class restaurants like Belcanto, which boasts two Michelin Awards.
Chiado may not have a vibrant nightlife like Bairro Alto but it's famous for antique bookshops, cafes, boutiques, and historic theaters. Its landmarks include Chiado Museum, Carmo Convent and Teatro Nacional de São Carlos.
The hotels in Chiado are more sophisticated than in Baixa, offering you a better skyline view. If you are low on cash, there are lots of studio apartments to cater to a low budget.
Alfama
Alfama may be Lisbon's oldest neighborhood, but it's beautiful. Couples will love the feel and look of romance on the streets, while artists have numerous photographing opportunities in the street alleys.
The neighborhood is famous for Fado music, traditionally sung by sailors' wives and accompanied by a classical Portuguese guitar as they awaited their husbands' return.
Many of Alfama's traditional houses have been converted to rental apartments. Luxurious hotels like the Sao Vicente Alfama Hotel have modern amenities and midrange accommodation is also available.
Ready for Lisbon?
Lisbon may have suffered an earthquake that wiped out most of its population and caused mass destruction of property, but it got back on its feet to become one of Europe's most charismatic cities.
If you are looking for a place to stay, Baixa is a good starting point if it's your first visit. The neighborhood is centrally located, giving you access to all other areas. Bairro Altos attracts lovers of parties, nightlife, and festivals.
The five neighborhoods mentioned display effortless beauty with their hills, old architecture, and streets.
Whichever area you choose, you will discover that Lisbon, with its unpolished seductive appearance, deserves its title as the fourth most beautiful city in the world.