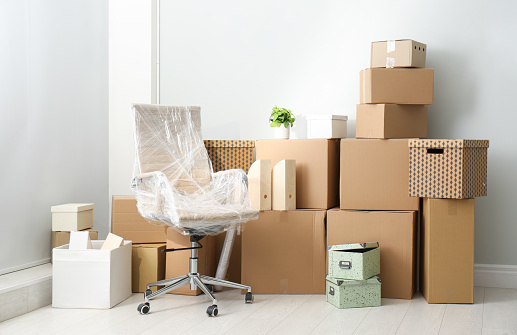 Cardboard boxes and packed chair indoors. Moving day
You can do a few things in advance to ensure your move goes smoothly. Firstly, create a moving map. Second, avoid moving at the beginning or end of the month. Lastly, you can invite friends or family to join you and pack your belongings.
Create a moving map
Moving day can be stressful and overwhelming, so creating a moving map is a good idea. A moving map can help you organize everything that needs to go from room to room. You can even colour code boxes based on the rooms they'll go in, making it much easier for your movers to know where to put them. It will also ensure that you don't have to spend time figuring out which boxes go where, and you can focus on the bigger pieces of furniture.
Moving is stressful and can be time-consuming, whether it's a long-distance move or a local move. Even if you've moved, this time will be more stressful than any other move. Moving involves a lot of heavy lifting, as well as unpacking. It's essential to add these tasks to your game plan and schedule them in advance.
Moving requires energy, so getting plenty of rest the night before is crucial. You don't want to be up all night packing a few boxes and finding something you've forgotten to put somewhere. It's also a good idea to take photos of your electronics so they can be reattached to their places faster. You might even want to label the cables' ends so that you know what is coming from each end. To keep your children entertained during the move, make sure they have a favourite toy or blanket. If you have young children, it's a good idea to pack a special "first-night" box for them.
Avoid moving at the beginning or end of the month
If you're moving to a new apartment, try to avoid moving on the first or last Friday of the month. That way, you'll have fewer people to deal with, and the move will be much less stressful. But, if you can't avoid moving on that day, there are other ways to make your moving day stress-free. First, you should buy extra moving boxes than you think you need. You'll also need plenty of bubble wrap, tape, and markers for labelling your boxes.
Second, consider the time of year when you want to move. Moving companies are busiest at the beginning and end of the month, so you'll save money by moving during a slower time of the year. Also, avoid moving on weekends, as these are the busiest times.
If you have plants, check with the mover beforehand and make arrangements to have them transported to your new home. Not all movers are willing to move plants. Also, you should remove all dangerous items and flammable liquids from your home.
Distractions to reduce stress on moving day
Distractions can be of two types: visual and cognitive. Visual distractions include checking your cell phone or browsing the internet. Cognitive distractions are those that divert your mental attention away from your work. Examples of cognitive distractions include daydreaming or thinking about your weekend plans. You may visit movalist.com.au to learn more about stress.
Moving day can be a stressful time. There are so many details to be taken care of that even the smallest hiccup can throw you off track. For example, you may be worried about packing everything you own, only to realize you've forgotten something. It's best to plan and focus on one small task at a time.
Making a to-do list is an effective way to stay organized and on task. Moving involves various tasks, and writing down tasks in a notebook can help you stay focused and on track. When working, organize your workspace to eliminate visual distractions. A work tray can help you organize incoming work and the current project. If your workspace is disorganized, you may be a visual organizer, and common organizing tips will not work for you.
Try creating a strategy for minimizing visual distractions and sharing them with your colleagues. By sharing your visual organization strategies with your coworkers, you can help them focus on their work.