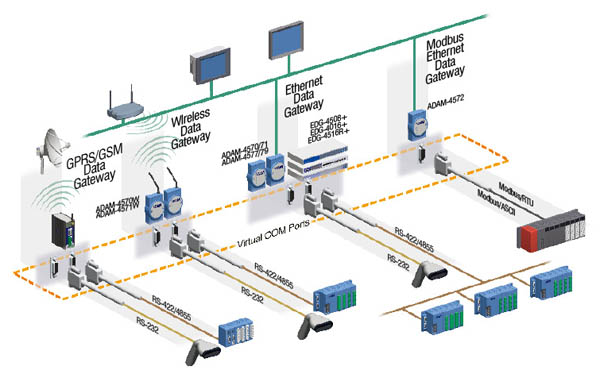 Industrial communication devices are the building blocks upon which an effective network for industrial communication is built. It works as the core architecture for automation, exchange, total data control, and the flexibility to continuously go through several connected devices.
Proper industrial networks have improved in maintaining the integrity and accuracy of digital signals on an end-to-end basis. These networks are usually built upon Local Area Network, LAN, Wide Area Network, or Wan modules. The communication devices include ethernet modules and modems, I/O transmitters and receivers, routers, antenna switches, base station repeaters, etc.
These industrial communication devices allow enormous amounts of live data to be transferred wirelessly using various channels. They implement communication protocols between external systems, as well as on-field devices and digital controllers.
There are many industries out and about that have massively benefited from industrial communication devices, such as:
Water management
Industrial communication devices are commonly used in managing or utilizing water and wastewater in municipalities. Companies like Elpro offer all the functionalities and frequencies through easy and safe I/O control coupled with SCADA radios.
The wireless modems and I/O help to establish long-range communication to implement both in-plant and out-of-plant strategies. They can give authorities responsible for managing sewage and water the control to allow the exact amount of water and protect the assets.
These devices can monitor rainfall catchments, enable flood-warning systems, help manage custody transfer for water and gas, and control SCADA radios for better control and monitoring.
They can also control turbidity, pH levels, and the pumps, control pump stations, cyclic changeovers, and other diagnostics.
You can also monitor tank water levels and their security, regular reports, and constant monitoring of water quality, and the irrigation systems gauge the dams better and control the gates. These communication systems can even help you operate on bore fields remotely, and they can replace the private networks that usually transfer data.
Energy and electricity
Many electrical companies use industrial communication devices to establish a fast and reliable point-to-point connection that will help monitor SCADA networks.
The demand for more energy will never stop with the population influx, and that's why operators and large-scale companies need to grow their networks. Still, they can't turn away from the maintenance part because only a secure and stable network will be able to win the customers' trust. Communication devices help in both aspects of the dilemma.
A safe industrial communication network with support for smart grid and legacy networks permits a much higher coverage area, and the crucial assets are quickly adopted for control and monitoring.
Modems and wireless I/O can provide industrial communication with upgraded security; ethernet and serials offer applications of both kinds: out-of-plant and in-plant. In addition, energy companies get to know the need for crucial infrastructure changes needed beforehand through dependable round-the-clock monitoring.
These communication devices are used for AMR (Automatic Meter Reading), AMI (Automatics Meter Infrastructure), observing facilities at substations, the reclosers, and the pole-top circuit breakers, automating the substations and accessing control functionalities, generating the distribution grid, and communications about disaster management.
Automation of factories
These industrial communication devices can help enable automation in factories. This can be achieved by employing video monitoring, PLC communications, and placing production lines under light trees.But unfortunately, hard-wired cable connection is nowhere near the speed or efficiency of what these devices offer.
The integration is simpler. The high-speed ethernet radios become the bridge for all the PLCs, and you can even throw in cameras for easier monitoring. The gateways convert the PLC and various protocols and interact per your needs.
Many retail giants have already mastered the application of industrial communication for simpler logistics. Extended automation, unmanned operations, and vehicle management with automated guidance inside warehouses can increase productivity in spades.
Wireless gateways are essential for industrial communication, and they have huge benefits. These can transmit wirelessly for quite a long distance, which makes operating and synchronizing different protocol-based PLCs much easier.
So, this way, the more modern equipment can still be run with the help of legacy PLCs like a Profibus PLC can connect to an Allen Bradley or Profibus through industrial communication devices.
CONCLUSION
Without industrial communication devices, many industries won't even run to their optimal best and naturally will impact the lives, the costs of manufactured products, and the economy. But moreover, it helps in agriculture and flood management, which practically and directly saves lives.