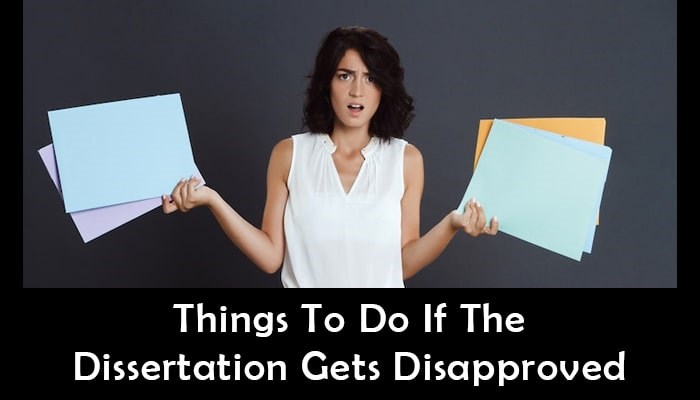 A dissertation is an essential part of your graduation and involves a lot of hard work and passion for getting it completed. Since it takes time and effort, students usually run away from it but running away is not an option, and eventually, they have to do it. Before you decide on taking a dissertation topic, you have to make sure to the supervisor and the committee that you will be able to do it in the given period.
For that matter, you are expected to first write a proposal telling and proving that you are competent enough to carry out a task as complicated as dissertation writing. If, upon submission of your dissertation project, the supervisor rejects it, then we have guidelines that will help you get through the difficult time and automatically help you in getting out of it.
Here are some tips that you can try out and see if it helps you in getting your supervisor's agreement.
Make an Appeal
If you are confident that your topic is solid enough and you have also taken other professors' opinions, and they approve of your topic, then you stand a chance of appealing for the rejection of your dissertation project. In this way, your supervisor might go through their decision once more and reconsider your project, hence saving you from the trouble of doing it all over again.
Ask for Assistance from Your Supervisor
If your supervisor has straight away rejected your topic without giving you solid reasons, then you are surely asking them for explanations. This is a rare case, though; supervisors usually mention a reason when rejecting a dissertation project. Moreover, there might be another scholar who is working on the same project, but your supervisor will never disclose this to you. It is better to ask if it is not mentioned.
Opt for Another Topic and Get Going
If your dissertation project is rejected on solid grounds, then before choosing another topic, you should keep those pointers in mind. This will make your work easier in choosing another topic.
Before you start working on a new project, keep the reasons in your mind and work accordingly. Says Dr Peter Bibby research director at European Business Review.
Request Your Department to Change Your Supervisor
If, before rejecting your dissertation project, your supervisor was not ready to help and assist you, then it might be difficult to work along in the future as well.
If he/she rejects your project or the first chapter without helping and giving directions, then working together, in the end, would be a nightmare. So finally, in such a case, you will have to talk to the people in charge to look into the matter and see what could be done or change the supervisor, if needed.
When is A Dissertation Topic Rejected?
If your dissertation topic is rejected, you are first supposed to appeal for an explanation that will help you in working out another topic and avoid the mistakes that you have made in the previous dissertation project.
However, your topic can also be rejected on very solid grounds, and you should be able to find a way to fight it back by coming back with another good and sound topic. These are some of the reasons that can lead to a rejection of your dissertation topic:
When it appears that your chosen topic will not contribute meaningfully to society and will not benefit in any way, hence there is no purpose in working on a topic that is not significant and will not help society in any way.
Suppose it seems that due to limitations of tools, data could not be collected. If the topic lacks details and proof to back up the topic, then there is no point in working on it. You can only work on a topic if you have good evidence to prove your point.
If it seems that, the topic is immensely complex and will not be completed during the set time. It is highly important to make sure to complete your research during a set time and follow the deadlines. A failure to do so will leave you in a bad place. Therefore, your topic should be such that it can be completed during the mentioned time frame.
If the research could harm the environment, such as plants and animals.
When there is no proof that you have the required competence to conduct the research.
How to Choose a Suitable Dissertation Project Topic?
Your topic is the most important part of your dissertation project. If you invest a good time in choosing your topic, writing a dissertation will be comparatively easier.
However, it is recommended that before choosing and finalizing your dissertation topic, you should consult your supervisor.
If you do not consult in the first place, chances are that your dissertation will be rejected. Rejection will increase your workload manifolds, as you will again have to write your dissertation from the very beginning. Consulting your supervisor head in the first place will eventually make your work a lot easier.
In case your topic was rejected, start with a new topic. However, this time it is recommended to take help from the experts so that there is no rejection. Since your dissertation is an important part of your academic performance, you will have to make sure to give it your best shot.
When choosing a topic, keep in mind to take your interests and research skills into consideration. Your topic of interest will make you more passionate and give you more ideas to write about. Also, avoid choosing a complex topic. Recommendation from Professor Paul McGraw a head research & development at Postal Worker Jobs.
Consulting your supervisor from the first day will help you write your dissertation smoothly without having to face any complications. Your supervisor will help you in choosing a topic with a better scope and help you in writing a successful dissertation.